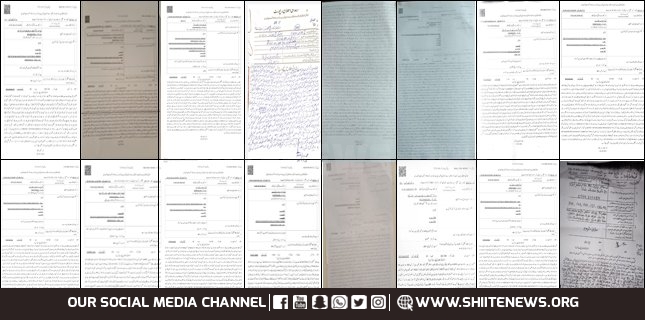 In this regard, Punjab is a top-of-the-list province where dozens of cases have been registered against the thousands of mourners while Sindh is proved second in this race and KP is 3rd.
According to Shiite News report, this year, on the occasion of Chehlum of Imam Hussain (AS) Arbaeen Walks were announced across the country but the biased Punjab government banned such walks just 3 days earlier because of this short notice measure people left unaware of administrative step and mourners from Lahore held the walk. On this action of mourners Police lodged an FIR against more than a thousand participants of the walk. Similarly, 9 cases against Azadari were registered in District Bhaker, 5 cases in District Sialkot, 4 in Sargodha, 2 in Jehlum, and 2 in Layah. Other cities like Bhalwal, Qitalput, Khaniwal, Kabirwala, Mandi Bahauddin, Hafizabad, Jalalpur Jadeed, and DI Khan are included in such districts where the cases registered in which lady mourners were also nominated.
In Punjab said cases were registered on the orders of Provincial Minister of law Raja Basharat who reportedly takes advice from MPA of banned Sipah-e-Sahaba, Maviya Azam Tariq.
Following the lines of the Punjab Government, in Sindh rulers of PPP were also seen extra charged to register baseless cases against Azadaran in Tando Muhammad Khan, Dadu, Tilhar, Badin, and Shikarpur.
Furthermore, the Speaker of Punjab Assembly, Chaudhry Parvez Elahi is widely criticized for calling a meeting on the day of Arbaeen and his action is being perceived as a demonstration of his inner feud with Holy Ahle Bayt Alaihim-us-Salam.