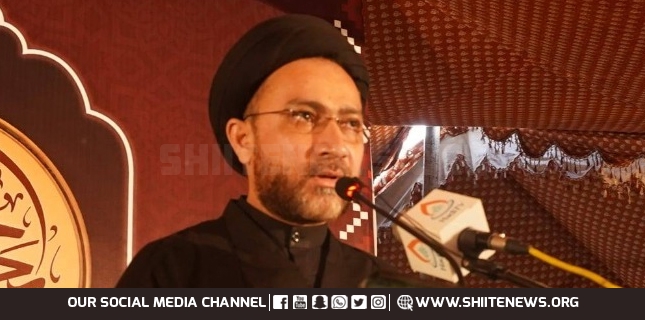 Shiite News: Renowned Scholar Allama Shahanshah Naqvi said that the lifestyle of Imam Hussain (AS) taught us that if you were stopped to any right thing, do it more and more, therefore Azadari will not reduce and voices of Ali-un-Walliullah will be echoed more lauder then ever before.
He expressed said views while addressing Ulema and Zakireen Conference in Islamabad. He added that there was no enemy of the Shia religion in Pakistan. If anyone exist there with the title of Shia enemy he was not able to call our enemy.
He presented 4 points charter of demand to the government, first of all, FIR lodged against him in Lahore should be revoked, more than 1000 cases registered against mourning gathering and 100 fourth schedule case register against Azadaran should be cancelled, appropriate Shia representation should be assured in Uniform Curriculum Committee and authority to lodge FIR on religious hatred should be assigned to SP rather than SHO level officer.