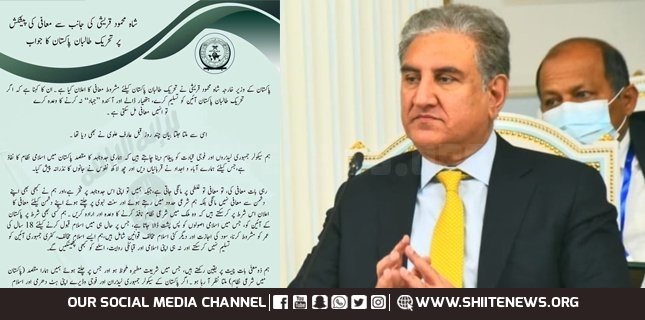 Shiite News: Banned Tahreek Taliban Pakistan has rejected the humbling offer of Foreign Minister, Shah Mehmood Qureshi, of unconditional apologizing with worst insult.
According to details, Foreign Minister, Shah Mehmood Qureshi said in an interview that if the Taliban would accept the constitution of Pakistan and surrender for never fight then they could be granted a pardon. The same statement was also issued by the President of Pakistan Arif Alvi.
In response to the above-said statements of Statesmen, the Spokesman of TTP said the excuse was made on any mistake but we were proud of our struggle for the establishment of the Islamic State and we have paid its cost in form of sacrifices of 60 million lives. Therefore we would not cut any sorry figure before secular political and military leadership of on our struggle.