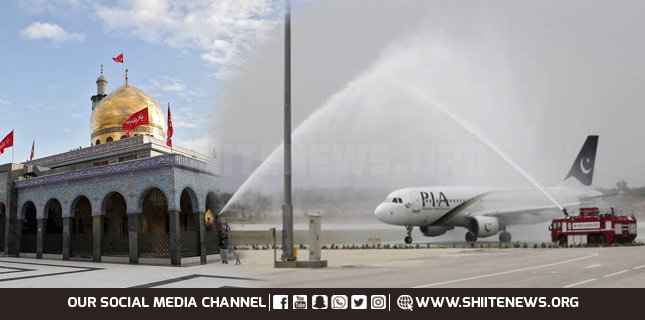 Shiite News: After 27 years interval, the first PIA carries of Zyreen Hazrat Zainab (AS) has landed at Damascus Airport where it was regarded with Water Gun. On this occasion, the Aviation Minister of Pakistan, Ghulam Sarver Khan, and CEO PIA Air Martial Arshad Malik were also present who met with the Syrian Transport Minister along with the Pakistani Ambassador in Syria and Syrian Ambassador in Pakistan.
Welcoming recent development Syrian Transport Minister said that PIA should transform its special flights into regularly scheduled flights. Later on, the Pakistani delegation visited the Shrine of Hazrat Zainab (AS) to pay homage where it was welcomed by the Syrian Minister of Endowment. After offering prayer and supplications on the Shrine of Hazrat Zainab (AS) Aviation Minister Ghulam Sarver and Arshad Malik came back to Pakistan through the same flight.
According to Spokesman to PIA 12 special flights will be operated for Najaf, 2 for Baghdad and 4 for Damascus and ongoing operation will be continued till 24 September 2021 from Karachi, Lahore, and Islamabad.