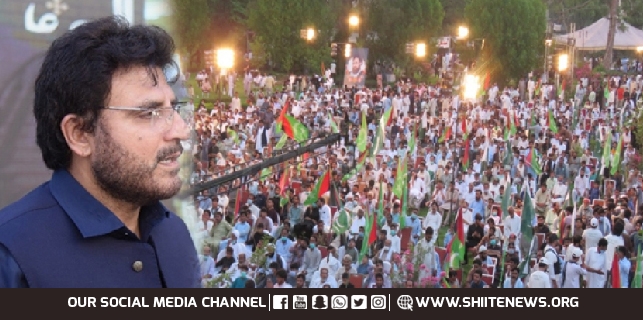 Shiite News: 33rd Martyr Anniversary of Allama Arif Hussain Al Hussaini was observed under the aegis of MWM Pakistan at Liaquat Bagh, Rawalpindi on Sunday, 1st August. In this highly attended congregation thousands of people including scholars, professional and student of various blocs were presented.
On this occasion while addressing Quran and Ahle Bayt Conference central deputy Secretary General Syed Nasir Abbas Sherazi welcomed all participants of the congregation and extended his thanks to them on participation there. He further said that in beloved homeland a new trend was being set regarding measuring a minority or majority for congregations. Said criteria was unacceptable at all. Pakistan was founded by Allama Iqbal who was Sunni Muslim while father of Nation Quaid-e-Azam Muhammad Ali Jinnah and Mader-e-Millat Fatima Jinnah were Shia Muslim. Now, a minority with infidel mind set of Millad-e-Nabvi (PBUH) and Azadari-e-Imam Hussain Alaih Salam was being imposed on us.
He added that we are to live and die in beloved Pakistan, those who were bringing up their descendants outside the country and investing capital abroad, how did they dare to ask us certificate of patriotism. We were questioned on demands for recovery of missing persons. We questioned them if they were right why they did not produce missing person in court of justice. Why were they frightened to keep missing persons in illegal detentions?
He asked that who would answer of escape of Ahsan Allah Ahsan, the murderer of innocent children of APS and Pak Army Soldiers. He also denounced the threat to Allama Ejaz Bahisti and warned Rawalpindi Administration to make arrangement of 60 million Shia people to fourth schedule but we would allow them to make Pakistan save heaven for ISIS and Taliban.