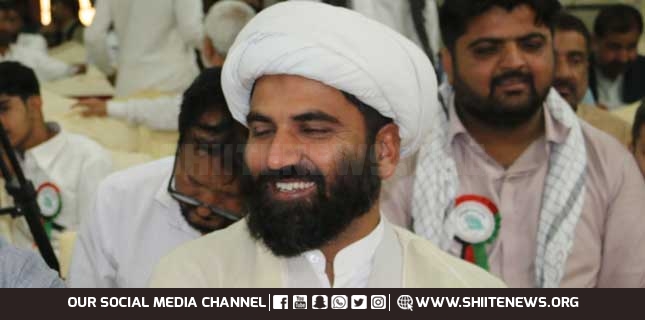 Shiite News: Central leader of MWM Allama Maqsood Domiki while addressing celebration of Eid-e-Ghadeer at Madarsa Khatim-un-Nabeen, Quetta said that Hadith-e-Ghadeer was established reality among Shia and Sunni schools of thoughts as number of prominent ulema and muhadaseen of Ahle Sunnah has quoted declaration of Wilayat wa Imamat e Ali (AS) at the congregation of Ghadeer in their books. Said references could be seen in the book "Al-Saif Al-Jalli Ala Munkir Willayat-e-Ali Alaih Salam written by Dr. Muhammad Tahir Al Qadari.
He further said that Ghadeer declaration is eternal remedy for humanity while in contemporary world Faqih-e-Adil being deputy to Imam of era Imam Mehdi (AS) were paving route for System of Wilayat.
He added that followers of Wilayat were confronting Yazidi forces under the command of Wilayat-e-Faqih System while its example was success of Hizb-ullah which was stood fast with Wilayat-e-Faqih.
On this occasion BNP leader M Luqman Kakar, Maulana Zulfiqar Ali Saeedi, Maulana Sohail Akber Sherazi and others also expressed their views on Prophet's declaration of Ghadeer.