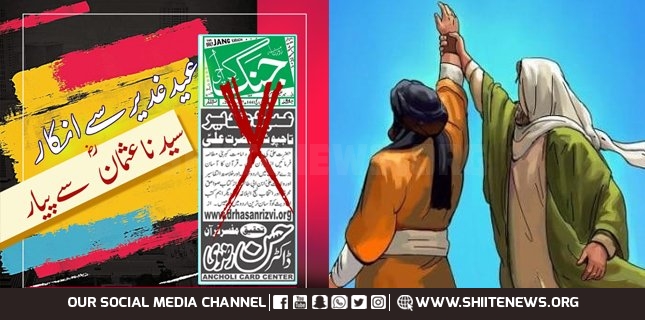 Shiite News: Divinely cursed and Ill-fate for both mortal and immortal worlds US, Saudi and Israeli funded Nasibi, Takfeeri clan of Islam has been denying the event of Ghadeer-e-Khumm at Makkah in Hijjaz-e-Mudas (Now known as Saudi Arabia) on 18 Dhu Al Hujjah 10 AH and 21st March 632 AD, in which our lord last prophet Hazrat Muhammad Mustafa (PBUB) asked his more than 12 million followers following his last pilgrimage holy baitullah of his life that did you think Almighty Allah and him to lord of your existence than they replied one voiced yes than he issued divine message following receiving revelation of completion of Islam which is only lifestyle near Allah and finally declared those who deem Allah and him (Prophet PBUH) lord of his existence now accept lordship of Ali ibne Abi Talib (Alaih-e-Salam) for their existence, although one companion denied and walked out from said congregation, after few steps away from said gathering he died for some divine reasons than others followers attested Holy declaration of Prophet (PBUH).
But, unfortunately a clan of Muslims who always been played role of imperialistic agents whether it would be a period of Umavi Malookiate or so-called US rule over the world they ever danced on Anti-Islamic tune in the guise of Islamic attire.
They are definitely puppet of enemies of Islam and don't miss any chance to divide Islam at any occasion through their sectarian riot conspiracies.
Similarly their descendants are still denying declaration of Holy Prophet Muhammad PBUH regarding transfer his lordship and leadership to Hazarat Ali Ibne Abi Talib (AS) and also running a nefarious campaign on social media under the title of BoycottEidGhadeer# to promote sectarian differences among the peaceful and social tranquility loving Pakistani Nation.