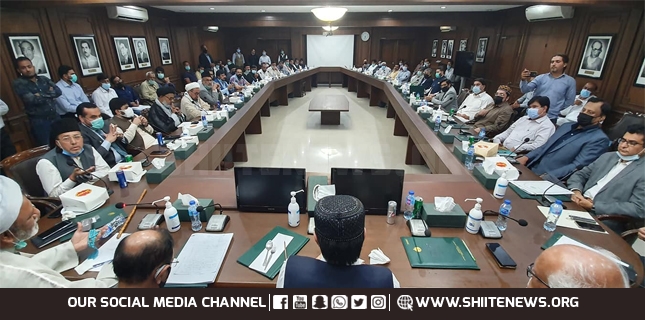 Shiite News: Minister of religious affairs Sindh Syed Nasir Hussain Shah chaired a meeting regarding forthcoming Holy month of Muharram Al Haram, in which representatives of Jafferia Alliance Pakistan, Majlis Wahdat-e-Muslimeen, Shia Ulema Council, Central Organization for Azadari along with others leaders and elders from Shia community were presented.
On this occasion provincial minister assured fool proof security during the holy month of Muharram Al Haram to participants of meeting as a complete and solid security plan is being prepared by the help of Police, Rangers and other law enforcement agencies.
He said that special arrangement of sanitation and supply for drinking water will be made at Imambarghahs and the routes of processions while K Electric will be directed to ensure undisrupted supply of electricity during the timing of Majalis.
He further asked participants of meeting to indicate any other issue regarding the preparation of Muharram Al Haram to be addressed.
On the other hand Shia Ulema and elders extended their thanks to Sindh Government for calling meeting on right time and praised the Muharram Al Haram arrangements made by provincial government during past years. They also assured their utmost cooperation to provincial minister in this regard.
It was the first meeting while the second meeting will be conducted under chairmanship of Chief Minister Sindh Syed Murad Ali Shah.