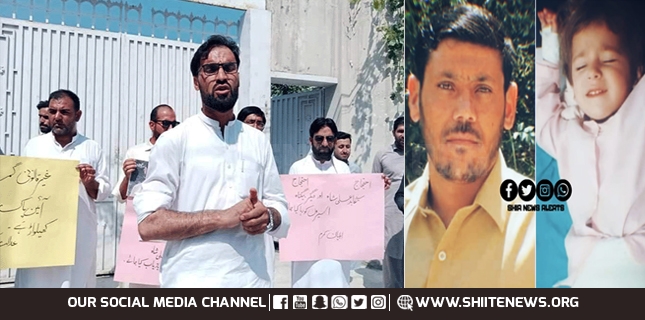 Shiite News: Shia resident of Para Channar named Abid Ali Shah has surprisingly disappeared from a hospital in Islamabad which he was only attendant of his little sick niece and his niece is without any attendant in the Hospital.
Missing Abid Shah's family and fraternity suspect so-called Law Enforcement Agencies behind his forced disappearance and while holding a protest in Para Channar along with local civil society for save return of Abid Shah they termed the incidence as state sponsored abduction. They also demand government save and immediate recovery of missing person.
According to details a resident of district Kurram of KP was taken forcefully by unidentified persons to an unknown place while his under treatment niece left wept and alone the hospital of Islamabad.
This to be remembered that number of Shia mourners of Imam Hussain Alaih Salam are used to be abducted from their houses or routes miserably and after that nobody pay attention towards affected family.