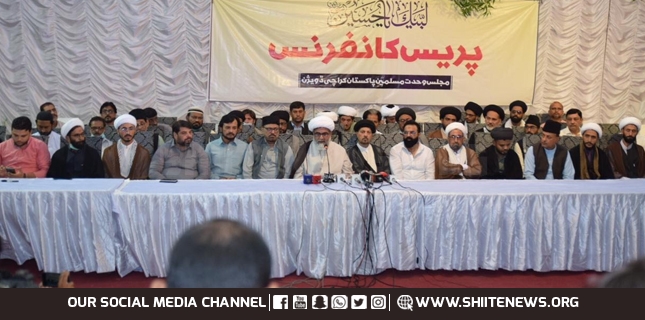 Shiite News: Head of Majlis Wahadat ul Muslimeen (MWM), Allama Raja Nasir Abbas Jafferi said that mourn of martyrs of Kerbala in Holy month of Muharram Al Haram 1443 A H will be observed with traditional dignity and grace throughout the country. He expressed such views while addressing a joint press conference with all Ulema Ahle Tasha'u at Islamic Research Center (IRC) Karachi regarding the forth coming Muharram Al Haram.
He further said that no hindrance will be tolerated during mourn for Shuhda-e-Kerbala while all the mourner would have follow Corona SOPs during Azadari.
He warned government regarding cases registered against mourners in Punjab. He said that in cases 8 to 14 year old youth were also included. He said country should not be made sectarian state.
He added that Shia and Sunni Muslims would jointly observe mourn of grandson of Holy Prophet (PBUH) in forthcoming Muharram Al Haram like every years while government should provide them fool proof security to Azadaran-e-Hussain Alaih Salam during sensitive months.
He also said that USA along with its allies was destabilizing all the regions especially Mid-East just to strengthen its illegitimate child Israel. He reiterated that sectarian differences in Pakistan were also being promoted on the same agenda while Al Quaiah was being unified in Turkey and Afghanistan.
He emphasized government and public to be aware of national and international conspiracies.
The Press Conference was attended by Allama Nisar Qalandari, Allama Baqir Abbas Zaidi, Allama Sadiq Jafferi, Allam Ali Anwer, Allama Malik Abbas, Allama Gulzar Shahidi, Shams ul Hasan Shamsi, S.M. Naqi, Ghuffaran Mujtaba, Razi Haider and others including Representative of Scout Groups, Matami Anjumans, various social figures and trustees of different Masajid and Imambargahs.