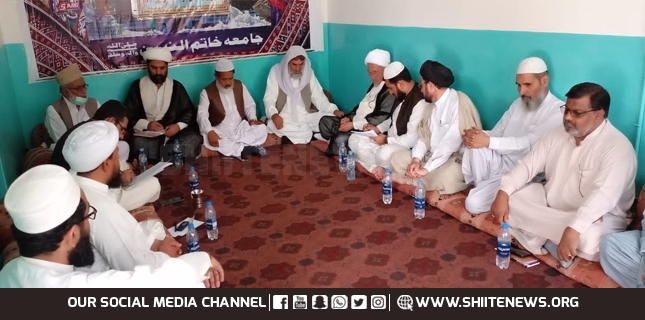 Shiite News: A meeting of Mili Yekjehti Council Baluchistan under the chairmanship of Maulana Abdul Haq Hashimi held in Madarsa Khatim-un-Nabeen (PBUH) on Monday. In this meeting recognized scholars of All School of thought unanimously rejected false propaganda regarding Sectarian differences on Social Media.
On this occasion Maulana Abdul Haq said that no law was acceptable collided with Quran and Sunnah. Capitalist economy was bone of contention. Peace and tranquility of the nation was need of time and for this we would have ensure end of sectarian differences as well as promote unity and harmony among the nation. He further said that Government will be failed in its trick to capture Religious Institutions and conspiracies of Secular element will be end in vain.
He also emphasized the Nation to be aware of false propaganda regarding sectarian differences.
While addressing the meeting Central Spokesman to MWM Allama Maqsood Domiki and Scholars of other school of thought said we should have to work jointly to combat every bias, hatred, sectarianism and linguistic prejudice. They added that Israel had reached on extreme of injustice, brutality and Anti-Human efforts. It would be inevitable to stop Israel from irreverence of Masjid Al-Aqsa and killings of innocent Palestinians. All the Muslims of the world were on one page for the return of Al-Quds and freedom of Palestine. Issues of Kashmir, Palestine, Afghanistan, Syria, Rohingya and Yeman would not be resolve unless unity among the Muslims because USA and European Powers wanted to keep the Muslims slaves of them.