Pakistan
MWM's delegation meets New Governor of Baluchistan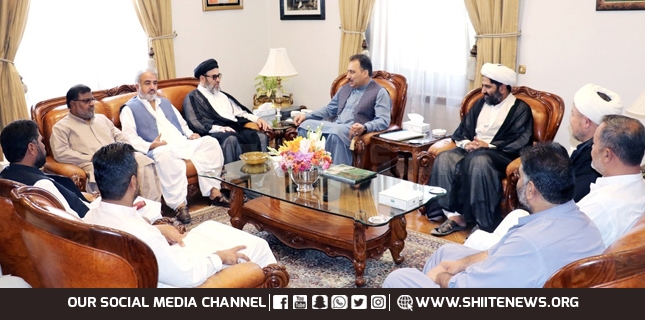 Shiite News: A delegation of Majlis Wahadat-e-Muslimeen (MWM) under the leaderships of Allama Maqsood Domiki and Allama Syed Hashim Mausovi met with newly appointed Governor Syed Zahoor Agha and extended him their best wishes on holding new responsibilities.
On this occasion Central Spokesman of MWM urged need to keep hawk eyes on suspicious activities of terrorists in the Province and to punish hard the accused of terrorist cases.
Representatives of MWM also expressed their grave concern on withdrawal of security of Shia Masajid, Educational Entities and Personalities in Baluchistan and demanded to restore them without wasting time. They also vowed to keep continue their full cooperation for peace and sectarian harmony with government and state entities during the sensitive month of Muharram-ul-Harram.
They also asked Governor Baluchistan to restore operation of Iranian Schools in Province as Turkish and US sponsored schools are operating there.
Allama Syed Hashim Mausavi demanded Governor to form a judicial commission on 2000 Shia Hazarah killings in Baluchistan.
In the response of said demand New Governor paid tribute to Shia and Hazara Community and honored their sacrifices for the country. He also assured to delegation to address their grievances soon. On the question of Iranian Schools operation in Pakistan he regarded educational services of brother Islamic country in Pakistan but the schools in Pakistan are needed to teach curriculum approved by Government of Pakistan.