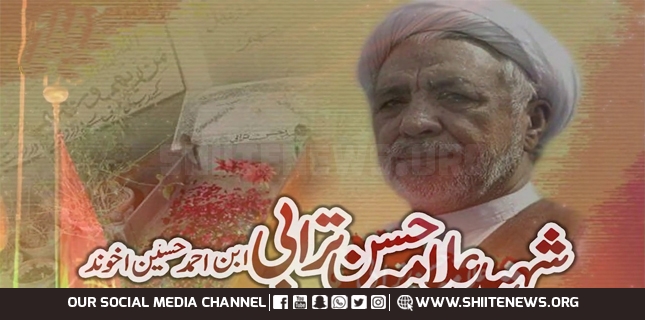 Shiite News: Martyr President of Islami Tahreek Pakistan, Sindh Allama Hasan Turabi passed away 15 years ago, in Karachi while a suicide attack when he was coming back to home from anti-Israel rally on 14th July 2006.
Martyr leader was a prominent flag bearer of Unity among the Muslims and always used to talk of Shia and Sunni unity on every forum he also unveiled Takfeeri and terrorist gangs who used to sabotage peace of beloved homeland, on the account of these services of humanity, he was thorn of enemy's eye and was killed because of his determination of Unity of Ummah.
Today, his 15th martyr anniversary is being observed in the country with great honor and respect. Shia nation pays homage to his sacrifice on every forum and commemorate his martyr anniversary every years with due pride and grief.
According to Shiite News, banned Lashker-e-Jhangvi accepted the responsibility of Allama Hasan Turabi's assassination via a video message but unfortunately responsible of said killing are still free.
Allama Turabi face so many attack during his life but decisive attack suicide bomber named Abdul Karim came to him and exploded himself. In said incidence 2 of Martyr Turabi were also lost their lives while explosive stuff was planted beneath a Fruit hand cart.