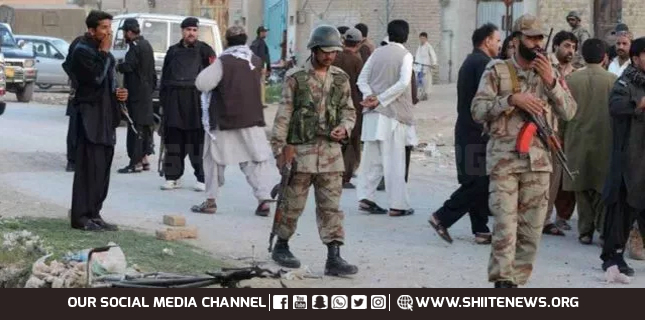 Shiite News: 5 soldiers of Frontier Corp (FC) embraced martyrdom on Friday morning, when they were attacked by terrorists during patrolling in the area of Sangan, Disrtic Sibi, Baluchistan, according to statement issued by Inter Service Public Relation (ISPR).
In the exchange of fire, terrorists also sustained heavy loss in form of men and material, while search operation is underway in the area of Sangan, to block the escape routes of the terrorists and apprehend the perpetrators, said ISPR.
Martyred soldiers were identified as Havildar Zafar Ali Khan, Lance Naik Hidayatullah, Lance Naik Nasir Abbas, Lance Naik Basheer Ahmed and Sepoy Noorullah.
ISPR has also made it clear to the enemy that Such cowardly acts by inimical elements, backed by Hostile Intelligence Agencies cannot sabotage the hard earned peace and prosperity in Baluchistan. Our Security forces are determined to neutralize their nefarious designs even at the cost of blood and lives.