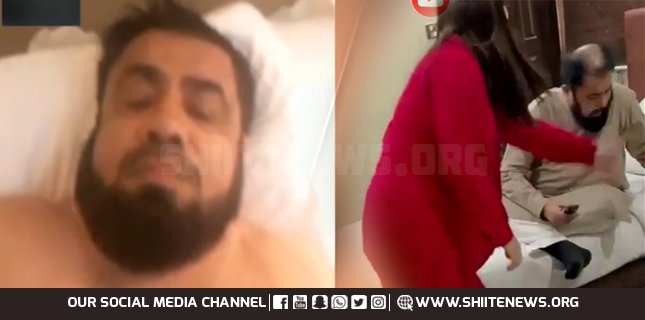 Shiite News: So called flagbearer of Islam and warrior of Allah Deobandi Maulvis and Muftis are commencing sexual misconduct in society with utmost efforts and all of their wrong doings are being viral in social media in form of obscene videos. A week was not gone of sexual scandal of Mufti Aziz-ur-Rehman, Mufti Qawi once again caught in his latest obscene video.
Mufti Qawi has no need to introduce due to a big series of his obscene video with showbiz glamour. A week before the death Late Qandeel Blaoch this Alim-e-Soo was enjoying sex with her in daylight during the month of Ramadan. Late Qandeel on aired his ashamed activity and after that she was killed reportedly by his brother. Mufti Qawi was also caught in a vulgar video with tik tok girls Sandal Khattak and Hareem Shah ( a Deobandi Madarsa graduate call girl). This not end of list, Mufti Saheb has many similar performance on his credit. Mufti Qawi is currently associate with ruling PTI but not ashamed of his wrong doings.
Once Allama Shahanshah Naqvi criticized Mufti Qawi, on this he replied in a media interview that Shanshah Saheb is scholar of his sect while I am scholar of PTI.
The contractor in the name of God and the religion of Islam could not stop the immorality of the Muftis. After Mufti Aziz-ur-Rehman of Lahore, a very shameful and ugly video of Mufti Abdul Qawi also came to light.
The new video of Mufti Qawi is indescribable. However, this is not the first video of Mufti Abdul Qawi's sexual misdeeds. Earlier, Mufti Abdul Qawi has been removed from the Ruwit-e-Hilal Committee due to his unethical conduct.
The government and law enforcement agencies do not seem to take any significant steps against these muftis, but if these unscrupulous people are not curbed, the people of Pakistan will also turn away from Islam especially scholars because of these devils.
These rogue Maulvis and Muftis are causing humiliation and disgrace not only to the religion of Islam but also to the country and the nation.