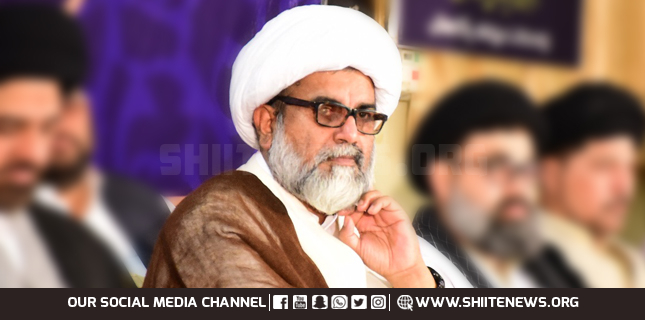 Shiite News: Allama Raja Nasir Abbas Jafari, Central Secretary General of Majlis-e-Wahdat-e-Muslimeen-e-Pakistan while presenting homage to 8th Imam Hazarat Ali Raza(PBUH) said that the life of Ghareeb-e-Toos was an immense treasure of knowledge, grace, asceticism and unshakable dermination to Allah which he practiced during throughout his life and no one could able to reach at the peak of said attribute what he was maintaining.
Allama Raja Nasir Abbas said that Imam Ali Raza was the of abundant of wisdom and rational from which he and all others of his time took a lot of benefits. The kings of said time saw no other recourse but Imamate for the solution of any insurmountable problem. This knowledge of divine Imam will continue till the Day of Judgment. The true followers of the Imam need to follow the same foresight as our eighth Imam.
He said that politics is not a ploy to deceive others but to follow the motto of pious Imams (as) for the defense and prosperity of our nation. We want the awakening of this political consciousness in our nation which is required according to rules set by our religion.
He said that if we become true followers of Imams, then the glory of this world and hereafter will become our destiny. Celebrations of Birth of Imam Reza (as) in the central, provincial and district offices of MWM were also organized on the direction of the main leadership of the party.