Pakistan
The 1st death anniversary of International Islamic Scholar, Allama Talib Johari is being observed, Today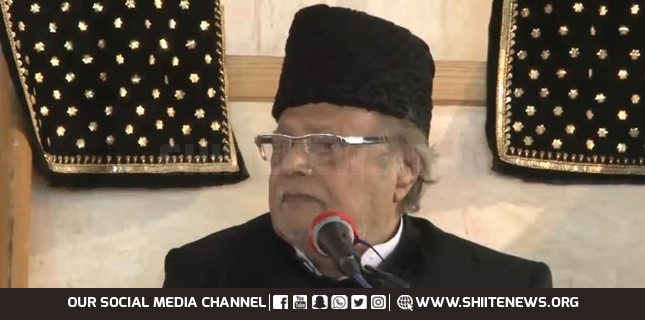 Shiite News: One year has passed to the demise of Honorable Allama Talib Johari, who was the greatest capital of Millat-e-Jafferia. Tonight, on the occasion of the first anniversary of Allama Sahib, the Central Congregation of death anniversary is being held at his shrine. Allama Talib Johari passed away on June 21, 2020 after a long illness at a private hospital in Karachi.
Allama Talib Johari is the name of an era who passed on the decades-long journey of remembrance of the martyrs of Karbala to the generations to come. The grief of his demise was felt by his family as well as others. Even the class which people call the religion-averse seemed to remember Allama Sahib.
Presenting homage to Allama Talib Johari a social media user Noor Darwaish cited that I remembered many people in my Facebook inbox expressing their feelings for Allama Sahib but there was a message of condolence in them which I still prevailing in my memory. A respected sister wrote that today it feels as if Muharram has arrived in Karachi. This is exactly the feeling of everyone who attended the funeral of Allama Sahib. It was the fruit of the love and devotion of Imam Hussain (as), a Zakir who spanned decades.
He further wrote that, today is the first death anniversary of this great Zakir of Imam Hussain (as) and I wanted to start a trend in memory of Allama Sahib on Twitter. I myself am not very active on Twitter but many believers in the readers will certainly be active on Twitter. So I would request you all to tweet as much as possible tonight at 8 o'clock (Pakistan) using the hashtag #RememberingAllamaTalibJauhari on Twitter. I would like to draw the attention of believers who specialize in Twitter trending to this request.
Noor Darwaish also requested to forward above said message.