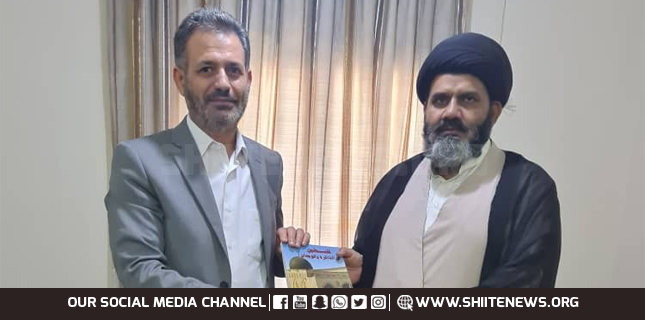 Shiite News: Majlis-e-Wahdat-e-Muslimeen Pakistan Central Secretary for Foreign Affairs Hujjat-ul-Islam wal-Muslimeen Dr. Syed Shafqat Hussain Shirazi was met by Palestinian Resistance Leader, Ehsan Ataya, Representative of Islamic Jihad Movement of Palestine in Lebanon, who also thanked Pakistan for its support to Palestine in the recent Palestinian-Israeli conflict and war.
Dr Syed Shafqat Shirazi lauded the steadfastness of all the resistance parties on behalf of Majlis-e-Wahdat-e-Muslimeen Pakistan and congratulated them on fighting the false Zionist forces and achieving a great victory over them.
Calling the victory over Isreal a victory for the entire Islamic world, the Palestinian leader said that not only we but all those who support us in this difficult time deserve congratulations and this is a joint victory of all of us against falsehood.
Finally, he said that we were paying attention at the international level regarding the public and government response. In this regard we are grateful to the people of Pakistan, political and religious leaders of all parties and especially to the Majlis-e-Wahdat-e-Muslimeen Pakistan for the public and government response from Pakistan and the excellent stance that came out from said country in our support.