Pakistan
Islamic values will be protected at all cost, Allama Arif Wahidi talks to Sahibzada Abul Khair Zubair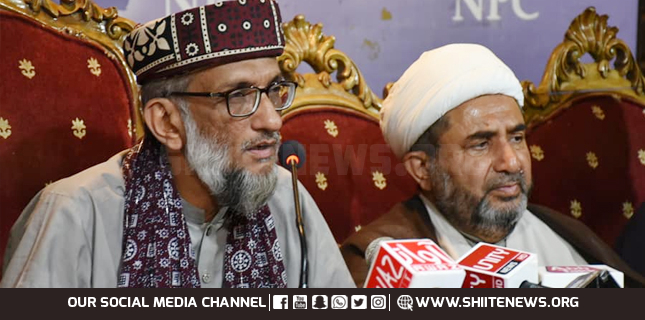 Shiite News: Central General Secretary Shia Ulema Council of Pakistan Allama Arif Hussain Wahidi called on the President of Jamiat Ulema-e-Pakistan and National Solidarity Council Dr. Sahibzada Abul Khair Muhammad Zubair at his office in Jamia Mujaddidiyah, Hyderabad.
The two leaders discussed the political situation in the country, Israeli attacks on unarmed Palestinians, the longest lockdown in Kashmir, Indian aggression, the role of the Solidarity Council in preventing conspiracies to inflame sectarian strife in Pakistan and to further mobilize it. Discussing the promotion of religious harmony among all schools of thought, they said that Islamic values would be protected at all costs. We will not allow any conspiracy to destroy the Islamic identity of Pakistan to succeed, we will not allow any threat to the integrity of the country, scholars and leaders of all schools of thought should promote unity and brotherhood in their ranks.
They added that anti-Islamic colonial powers were hatching new conspiracies to spread anarchy in Pakistan, plans were being made to deprive madrassas of their freedom and eradicate religious values, adding that the Kashmir issue had been put on ice. Yes, the Israeli army is heating up the market of oppression in Palestine. The hostile attitude of education under the guise of corona is a matter of great concern for the nation. Islamist patriotic forces should unite and fight.
Central leaders of Shia Ulema Council of Pakistan Thaqleen Haider, Hasnain Mehdi, leaders of Jamiat Ulema Pakistan Pir Syed Saeed Ahmad Shah Sanghanvi, Nazim Ali Arain, Dr Muhammad Younis Danish and Umar Farooq were also present on the occasion.