Pakistan
Real leadership rescues its people like Imam Khomeini. Allama Baqir Abbas Zaidi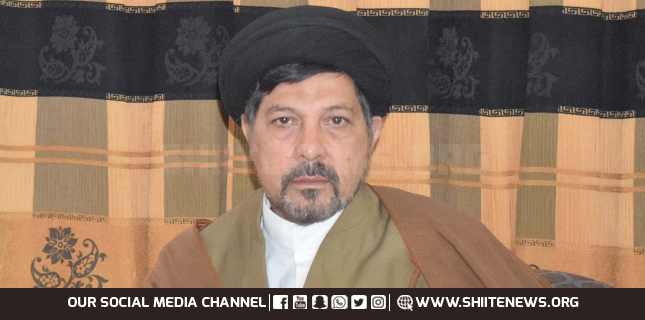 Shiite News: Secretary General of MWM Sindh Allama Baqir Abbas Zaidi said that the ideology of jurisprudence (Faqih) was already existed and Imam Khomeini had not to find it but he implemented it in the society. Regarding the lessons on jurisprudence, we would like to say that Imam Khomeini's thoughts on the Islamic government include the scholars were clear.
While addressing a Majlis e Aza and Dua e Tawasal at the end of weeklong celebration of the 32nd death anniversary of Hazrat Imam Khomeini (may Allah have mercy on him) he said that Imam Khomeini was a leader, you may not get his character, approach and intellectual. The fact is that it is your problem. The thinking and culture of the Iranian nation has changed radically. Today, an Iranian woman considers martyrdom to be an inaugural event and congratulates the family on the martyrdom. Imam Khomeini, at just 27 years old, has written forty hadith, which contain reasoned answers to doubts about the purity of the religion and the religion of truth. ۔ Imam Khomeini's mission was successfully carried forward by Supreme Leader Ayatollah Seyyed Ali Khamenei and still continued.
Allama Baqir Abbas Zaidi paid homage to the late Agha Jafar Naqvi and the late Allama Abbas Kameli by accolade then for being the indirect Qur'an of Imam Khomeini. On this occasion, political, social personalities, scholars, poets including Maulana Sadiq Jafari, Maulana Nishan Haider, Maulana Bilawal Hussain Faizi, Maulana Insaf Ali Haider, Qamar Abbas Rizvi, Secretary General of Abu Talib Foundation Ali Haider Shah, Nasir Hussaini, Arshadullah Mutakabi, Zaheer Zaidi , Danish Bukhari, Shabbir Hussain Zaheer Jarchovi, Saqib Raza Saqib, Azadar Hussain Kazmi were also present.