Pakistan
Ghotki train accident, death toll rises further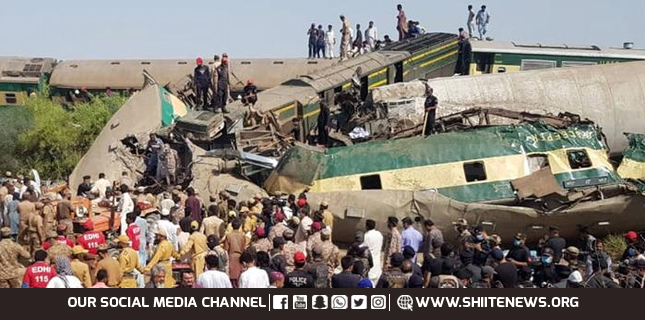 Shiite News: The bodies of 7 more people expired in Ghotki train accident have been recovered, rised the death toll to 62. According to rescue officials, the condition of many of the 100 injured in the accident is critical. On the other hand, 2 brothers, mother and cousins residents of Lodhran were also buried in sobs and tears while a large number of citizens attended their funeral prayers. In addition, when the bodies of uncles and nieces reached Sardarwala, there was chaos in the area.
Momin and Hadi, two minors lost their lives in the accident, were also identified. Both the children were on their way to Faisalabad from Karachi with their mother. The bodies of Shahbaz, his wife and two children from Lodhran have also been identified. The wife, daughter and father-in-law of Vehari resident Hazrat Khan were also expired while the injured daughter is undergoing treatment. Hazrat Khan says that his family had an accident on their way to Khanewal from Karachi and his youngest son Subhan was found.
On the other hand, DS Sukkur Tariq Latif said that relief operation has been completed at the site of the train accident.
DS said that after a 29-hour standstill, the traffic on the railway track was restored. The trains stopped on Sunday have now started running towards their destination. However, the speed of trains on the affected track has been kept low at present.