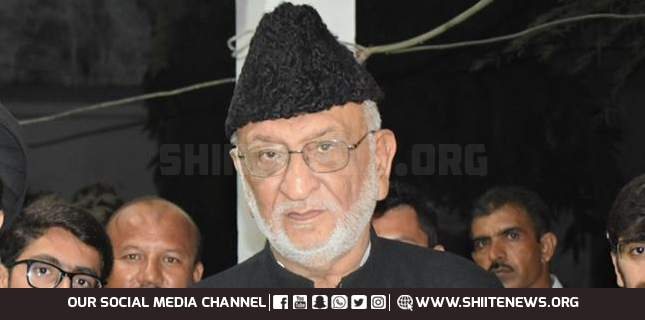 Shiite News: Two years have passed since the great asset of Millat Jafaria, the head of Jafaria Alliance Pakistan and the famous Khatib Ahl-e-Bayt Allama Muhammad Abbas Komaili passed away on June 8, 2019 in Karachi after a long illness.
According to details, the second death anniversary of Unique Scholar and senior Shia national leader Allama Abbas Kamili is being commemorated today. Allama Abbas Komaili is one of the most famous Shia leaders in the country. His fame led to the formation and leadership of the Jaffaria Alliance Pakistan.
He was born on December 15, 1942, in the house in front of Wazir Mansion, the birth place of the founder of Pakistan, Muhammad Ali Jinnah, the founder of Pakistan, in Kharadar area of Karachi, while he was also one of the relatives of Qaid-e-Azam, Muhammad Ali Jinnah. He achieved knowledge from Allama Rashid Turabi.
Allama Abbas Komaili united and coordinated all Shia national organizations on the platform of Jaffaria Alliance and fought for national rights of this community, raised effective voice against the ongoing Shia targeted killings in the country and advocated for rights from Karachi to Quetta.
He fought for inter-Muslim unity, as well as being a founding member of the Palestine Foundation. In 2011, he launched the "Tehreek-e-Labaik Ya Hussein Movement" against Shiite targeted killings. Also sacrifice his 42-year-old son, Maulana Ali Akbar Komaili, was shot dead outside his factory in September 2014.
He passed away on June 8, 2019 at the age of 77 in a local hospital in Karachi due to a long illness. He was buried in his ancestral graveyard at Chakiwara Hussaini Bagh No. 1.