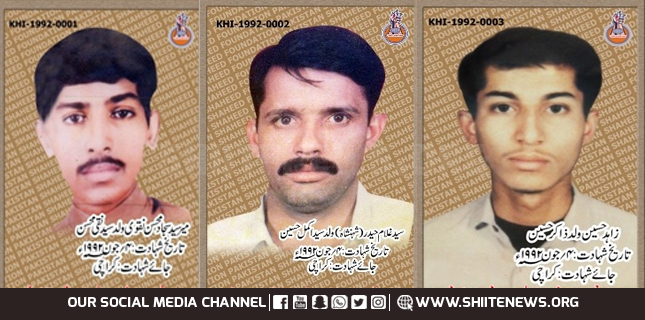 Shiite News: 29 years have passed since the tragedy of Masjid and Imam Bargah Bab-ul-Alam Karachi. In this tragic tragedy 3 Shia mourners were martyred whose killers are still free and out of the grip of law while the heirs of these martyrs are still seeking justice from the state of Pakistan.
According to the details, June 4, 1992 was another dark day for the Millat e Jafaria of Pakistan when the terrorists of the pro-Saudi Sipah-e-Yazid banned Sipah-e-Sahaba opened fire on the Masjid and Imambargah Bab-ul-Ilm on the main highway of North Nazimabad area on first Thursday night of lunar month when the mourning in the Imambargah was ended by Anjuman e Ghulaman e Hur and the believers were present in the courtyard of the Imambargah.
While defending the mourners and the Masjid and Imambargah, three believers were martyred and four were injured while the rest of the mourners in the Imambargah were saved. Among the martyrs were Mir Sajjad Mohsin Naqvi S/o Syed Naqi Mohsin Naqvi, Syed Ghulam Haider (Shahanshah) S/o Syed Akmal Hussain and Zahid Hussain S/o Zakir Hussain.
The three martyrs were laid to rest in the premises of Masjid and Imam Bargah Bab-ul-Ilm as the graveyard of Wadi e Hussain was not established at that time.