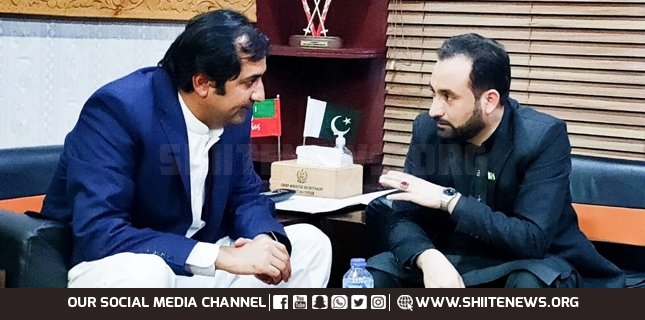 Shiite News: Leader of Majlis-e-Wahdat-e-Muslimeen and Provincial Minister for Agriculture Gilgit-Baltistan Muhammad Kazim Maisam had a detailed meeting with Gilgit-Baltistan Chief Minister Khalid Khurshid Khan in Islamabad. During the meeting, construction and development of Gilgit-Baltistan, especially development projects were discussed.
In this regard, approval for development projects of Baltistan region especially diversion of Shatong Nalla, Sadpara Power Project, Shagarthang Road, Shagharthang Power Project, Ghawari Power Project, 500 bed hospital, sewerage system for constituency one and two and other PP modes. He thanked them for overseeing the projects and approving them for their special efforts.
He added that for the first time in the history of Gilgit-Baltistan, work is underway on basic and mega projects which will change the destiny of the region. The construction of Shagarthang Road will have a major impact on the tourism industry in Gilgit-Baltistan. The Baltistan region was neglected in the past and now the people have high expectations of the present government. If there had been basic work in the past, the city of Skardu would not have been thirsty for water today and there would not have been the worst load shedding. The only solution is immediate action on the Shatong project.
The Chief Minister Gilgit-Baltistan said that it is our responsibility to work hard for the development of the whole of Gilgit-Baltistan and work on a comprehensive plan. In Baltistan Region, I will personally supervise other projects including Shatong Nala Project, Ghawari Project, 500 Bed Hospital and Shugharthang Route and no negligence will be tolerated in the projects.
He further said that Skardu city in Baltistan region is under heavy load, hospitals and educational institutions are under heavy load, infrastructure is poor, worst load shedding and drinking water supply is also a problem. Missing facilities of RHQ will be completed immediately. It is very unfortunate that there is no MRI machine in the entire Baltistan region. Soon there will be an MRI machine and all areas will be upgraded.
He elaborated that the population of constituency Skardu 2 is very high and there are a lot of problems. A comprehensive plan will be worked out for education, drinking water supply, link roads and health facilities as well as a tourist destination. Provision of basic amenities is very important which will have an impact on the whole of Gilgit-Baltistan.