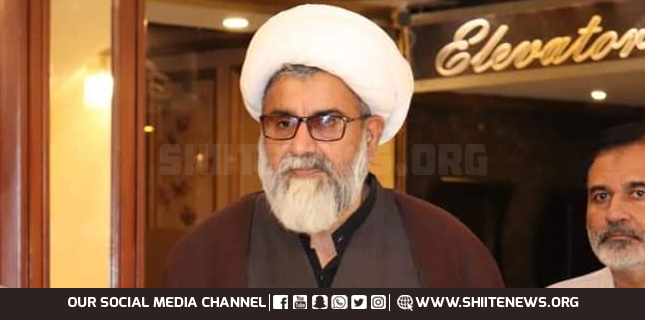 Shiite News: Allama Raja Nasir Abbas Jafari, Central Secretary General of Majlis-e-Wahdat Muslimeen Pakistan, has said that any decision that affects Pakistan's internal sovereignty will not be accepted by the people of Pakistan. Mutual cooperation between the two countries on Afghanistan issue is a matter of time, but whether it is the national interests of the United States or its national security, they are in conflict with the interests of the region and the national interests and national security of our country.
He further said that the nation had in the past suffered from the worst form of terrorism and burried more than 70,000 dead bodies as the cost of cooperation with the United States. The United States has always sought to attach Pakistan for its interests, so giving the United States Pakistani air space and land borders would be tantamount to putting a new test on the 220 million people of Pakistan.
He expressed deep concern on newspaper reports that the United States has been provided land and air routes as well as military bases from Pakistan for access to Afghanistan were worrying. The government should clarify its position on the statement of US Assistant Secretary of Defense for Indo-Pacific , David Halloway that "Pakistan will continue to allow the United States to use land and air space to gain access to Afghanistan". In this Allama Nasir Abbas said in his response that I will give a blunt answer, keeping the people in the dark will erode the confidence of the nation in the government.
Central leader of MWM added that the complete withdrawal of the United States from the region is essential for the establishment of regional peace. As long as this evil force remains present in the region, it is not possible to put an end to the heinous acts.
"The United States has always attacked us in the guise of friendship," he said. Pakistan's Assurances of any kind to the United States for presence in the region, whether declared or undeclared, would be considered contrary to public aspirations and against the interests of the state.