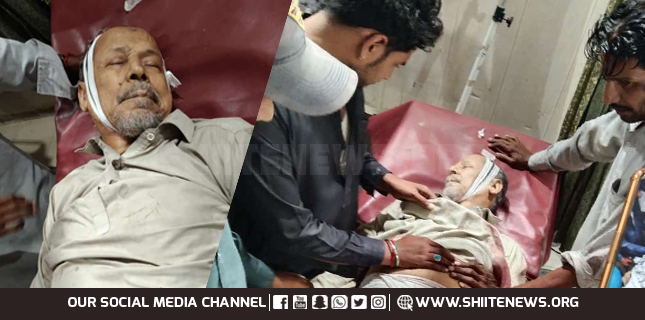 Shiite News: Terrorists of the banned pro-Saudi terrorist group Sipah-e-Sahaba once again unleashed Shia target killing operations, in Punjab. They martyred Master Saeed, who was Mau'zin of Masjid and Imambargah Bab e Ali and elderly Mourner of Imam Hussain Alaih Salam .
According to details, in Bahawalnagar district of South Punjab, the operatives of the anti-national Saudi-funded banned Takfiri terrorist group Sipah-e-Sahaba opened fire and martyred Master Saeed, the Mau'zin and mourner of Bab-e-Ali Mosque and Imam Bargah.
After the incident, Master Saeed was shifted to a nearby hospital where he succumbed to his injuries. Police have started investigation after the incident. After the martyrdom of Master Saeed, there is severe outrage among the believers.
According to police sources, Master Saeed was targeted as he was returning home after performing Azaan and prayers of Fajr. Two armed terrorists on a Honda 125 motorcycle ambushed him and opened fire on him. And two bullets hit him, which proved fatal.
According to police, Master Saeed had no personal enmity with anyone. Shian-e-Haider-e-Karar of Bahawalnagar have demanded the Punjab government and law enforcement agencies to immediately arrest the killers of Master Saeed and punish them. Otherwise, Millat-e-Jafaria reserves the right to peaceful protest.