Pakistan
Shiite Sunni clerics call on government to boycott Israeli products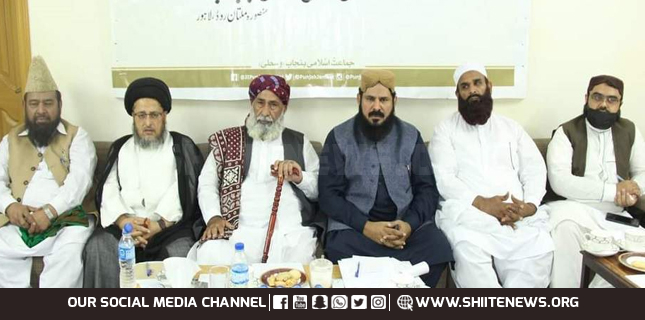 Shiite News: Shiite Sunni clerics and elders demand boycott of Israeli products from the government, the meeting of the Milli Yakjehti Council Central Punjab was held in Mansura, Lahore. Central Punjab office bearers attended the meeting.
The meeting condemned the desecration of Jerusalem and the Israeli aggression against the unarmed Palestinian people. The meeting also passed a joint resolution to boycott Israeli products from the government. President Milli Yakjehti Council Punjab (Central) and Ameer of Jamaat-e-Islami Punjab (Central) Muhammad Javed Kasuri addressed the provincial meeting of Milli Yakjehti Council in Mansura.
Provincial Secretary General Milli Yekjahti Council Punjab (Central) Allama Naseer Ahmad Noorani, Senior Vice President Leader Shia Ulema Council Allama Syed Sabteen Sabzwari, Secretary General Jamaat-e-Islami Punjab (Central) Bilal Qudrat Butt, Leader Tehreek-e-Ittehad-e-Ummah Pakistan Baba Muhammad Shafiq Butt. Leader of United Jamiat Ahle Hadith Pakistan Syed Tahir Mahmood Bukhari, Secretary General of Ulema-e-Mashaikh Council of Pakistan Pir Burhanuddin Ahmad Usmani, Leader of Basira Pakistan Syed Nisar Ali Tirmidhi, Representative of Imamia Organization of Pakistan Ali Raza Naqvi, President of Jamiat Ittehad Ulema Lahore Maulana Mukhtar Khan Swati, Leader of Tehreek Owaisi Pakistan Pir Arshad Owaisi and important leaders of other religious parties were also present.