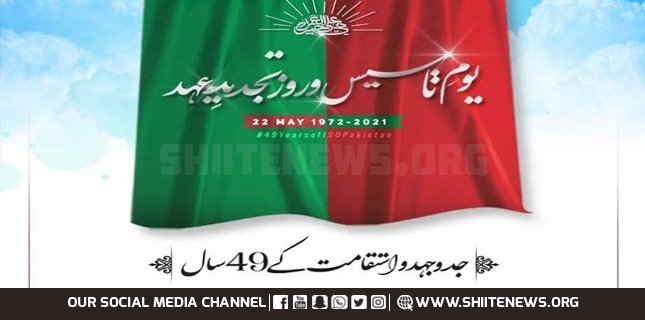 Shiite News: Central General Secretary of Imamia Students Organization of Pakistan Muhammad Abbas Jafari in a statement said that the 49th founding day of ISO Pakistan is being celebrated on May 22 in a simple and dignified manner.
He further said that the founding day of ISO Pakistan is a day of renewal of loyality with the blood of martyrs.
ISO Pakistan workers, alumni and officials in all cities across the country, including Karachi, Lahore, Larkana, Peshawar and Gilgit, will participate in the Foundation Day celebrations.
In connection with the Foundation Day, a seminar will be held at the Central Secretariat in Lahore, which will be attended by a large number of workers and former ISOs.
Former Divisional Presidents and Central Representatives will also address the seminar and pledge to use all their efforts to achieve the goals of the ISO and to equip every youth of this country and nation with the jewel of education.
In the celebrations of the foundation day, special homage will be paid to the martyrs of Imamia, thanks to whose pure blood this genealogy is still alive in every corner of the country. At the celebrations, prizes will be distributed among the workers for their organizational and academic performance and a cake will be cut on the occasion of Foundation Day.