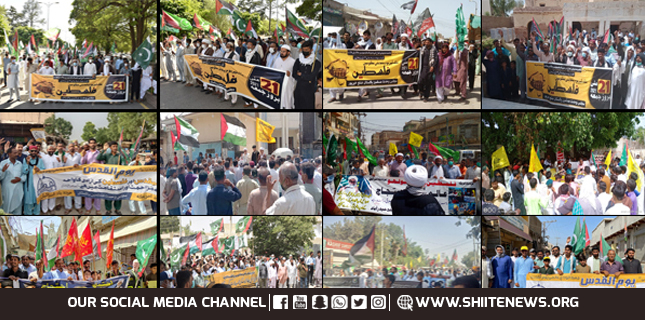 Shiite News: Today, on the call of Government of Pakistan, Shia, Sunni and social organizations across the country celebrated together, the Day of Solidarity with Palestine against the senseless massacre of unarmed Palestinian Muslims by the usurping Zionist state of Israel and desecration of the first Qibla of Jerusalem. On this occasion, from Karachi to Khyber country resounded with slogans of "Death to Israel and long live Palestine".
Millions of people across the country took part in protests and rallies to express their anger against Israel. Speakers strongly condemned the barbaric atrocities committed by the illegitimate state of Israel and expressed their full support for the oppressed Palestinian brothers and sisters.
Pakistan Tehreek-e-Insaf, Majlis-e-Wahdat-e-Muslimeen, Jamaat-e-Islami, Pakistan Sunni Tehreek, Jamiat Ulema-e-Pakistan, Shia Ulema Council and other parties also burnt the flags of Cheif Satan the America and its illegitimate child Israel.
On this occasion, all the people of the country demonstrated mutual unity and harmony while expressing their full hatred against the anti-Islamic forces and the atmosphere of the beloved homeland resounded with slogans against the oppressive US and Israel.