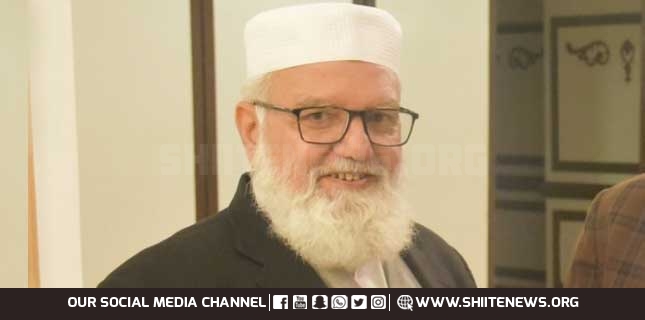 Shiite News: Central Deputy Amir of Jamaat-e-Islami Pakistan and Secretary General of the National Solidarity Council Liaquat Baloch has said that Israel has reached the extreme of oppression, repression, massacre and war crimes in Palestine, Al-Aqsa Mosque and Gaza. He said that Israel is illegitimate, evil and a disgrace on the forehead of humanity. Ending the scourge of Israel is essential for world peace.
He further said that Islamists all over the country are protesting against the backing of the Palestinians and Zionism, while the Muslim rulers are limited to making statements, telephone calls and holding soulless meetings, the Muslims of Kashmir, Palestine, Afghanistan, Syria and Yemen. The nation of Islam has the right to unite.
He added that indifference, showmanship and cowardice should be abandoned and an action plan should be drawn up for the establishment of world peace and liberation of oppressed Muslims from oppression by uniting the entire Ummah against Israel, India and American Zionist imperialism.
Liaquat Baloch of the view that the United States, both internally and externally, is the patron of Israel and the backbone of India. Only the unity of the Islamic world can subdue all the imperialist and anti-Muslim and anti-Islamic forces. And there is a vast field of natural resources, the Muslim world does not need any crutches and flattery, the National Solidarity Council will continue the struggle for unity of the Ummah.