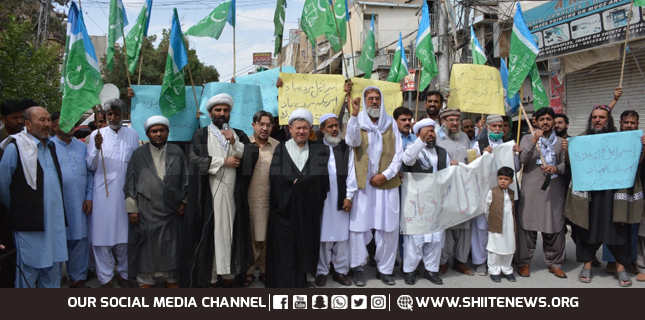 Shiite News: Milli Yakjehti Council held a highly attended protest in support of oppressed Palestinians at Quetta Press Club, which was addressed by Maulana Abdul Haq Hashmi, Provincial President Milli Yakjehti Council Balochistan, Maulana Abdul Maqsood Ali Domki, Allama Syed Muhammad Hashim Mousavi, Allama Barkat Ali Motahhari, leader of Jamaat-e-Islami Maulana Hafiz Noor Ali and Zahid Akhtar Baloch, Principal of Jamia Imam Sadiq (as) Principal Allama Muhammad Juma Asadi, Provincial President of Jamaat Ahl-e-Sunnat Balochistan Pir Syed Habibullah Shah Chishti, Maulana Dr Ata-ur-Rehman Najeeb-ur-Rehman of Jamiat Ulema-e-Pakistan and others.
The speakers said that all the Muslims of the world were expressing solidarity with the oppressed Palestinian people because illegitimate state Israel had been committing atrocities in Palestine for the last seventy years which were unprecedented in human history. Thousands of Palestinian had been forcibly evicted from their homes and then subjected to extreme cruelty. Now Israel's day of end would come as the heirs of Al-Aqsa Mosque and Quds who were 1.5 billion Muslims of the world had been awakening.
They also said that Israel was a usurper and a fake state which had rejected by the diginfied Muslims and other sophisticate nations of the world. If the Arab rulers were betraying the Muslim Ummah by bargaining for Jerusalem and the first Qibla, it was not the decision of the people of these countries, but the decision of the unelected, undemocratic and illegitimate rulers who prostrate before Israel and the United States which was their own choice. They enquired Where was the so-called army of 39 countries? Someone would tell those cowards rulers that the first qiblah of Jerusalem is burning.
"Israel is in the weakest position in history today," they said. While proud Muslims around the world are sacrificing for the liberation of Jerusalem alongside the Palestinians, the great martyrs who sacrificed their blood for the liberation of Jerusalem will continue their mission until the liberation of Jerusalem and Palestine. The support of the government of Pakistan to the oppressed Palestinians is an expression of the sentiments of 22 million people, but we demand that Pakistan go beyond verbal support and do some practical measure to help innocent peoples and freedom fighters of Palestine.