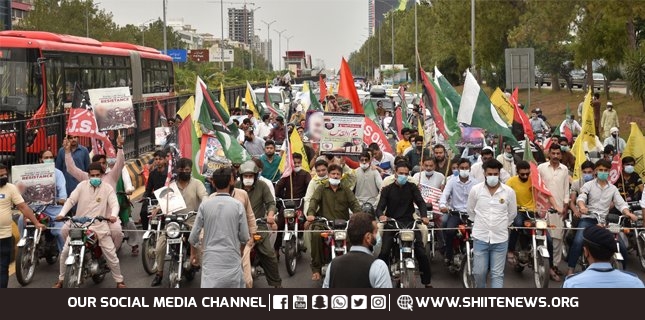 Shiite News: A grand car and motorbike rally was held in the capital Islamabad. This rally was held in solidarity with oppressed Palestinians and against Israeli barbarism. The rally was led by Chairman Majlis-e-Wahdat-e-Muslimeen Pakistan Allama Raja Nasir Abbas Jafferi,.
Leaders of Imamia Students Organization, Milli Yekjahti Council were also present in the rally. Participants were on cars and motorbikes, holding placards having slogans against Israel's brutallity and the criminal silence of world powers.
Addressing the rally participants at D-Chowk, Allama Raja Nasir Abbas Jafferi said that the game of blood and fire which had started by Israel would end in annihilation of Israel. The process of decline of illegitimate Zionist state has begun. The sensible Muslim rulers of the world would soon come together against the Jews and the Christians.
He said that the Palestinian nation is not easy target to suppress it would be proved a bone of contention for Israel and it allies. He also salute the courage of the resistance movements of Palestine who were defending their dignity and prestige on ideological frontiers. He added that every conscious Muslim of contemporary world seems to be defending the principled position of his Palestinian brothers.
He said that the silence of the so-called human rights activists on the Israeli brutality was revealing their biased mentality. He said that it was a fact that there were two warring factions in the world at present. One was the countries which were fighting against the Jews and Christians with their Islamic identity and Second was the group of countries which was support enemies of the Muslims with their silence for their vested interest. In said two factions first was on right path while another was following wrong.
"Jews and Christians are enemies of Muslims. This is a divine decision," he said. There is no other opinion. All Muslim rulers must unite against Israel and if an Islamic state found supporting Zionists against Palestinian Muslims would be considered as engage in an open war against Islam.
He told the Muslim rulers that it was time to wake up. If they would not open their eyes, their future generations would have to face consequences. Naib Ameer Jamat e Islami Mian Aslam, Central leader of Tahreek e Naujawanan e Pakistan, Abdullah Gul, Deputy Secretary General, Saqib Akber and others attended and addressed the rally.