Pakistan
Shia teenager martyred in a takfiri ASWJ terrorist attack in Kohat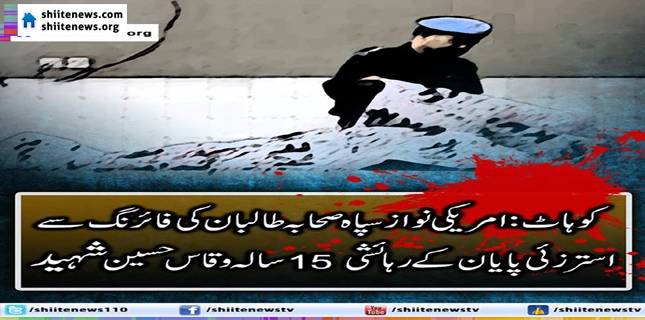 Young Shia member of a matami anjuman (mourning organisation) embraced martyrdom in a targeted attack on his life by the ferocious Wahhabis-allied Saudi-trained Deobandi takfiri terrorists of the ASWJ/Sipah-e-Sahaba in Kohat district of Khyber-Pukhtoonkhwa province (KP) on Sunday.
Waqas, 15, was a member of a matami anjuman Dasta-e-Rizvia, was ambushed in Kohat City. He was resident of Ustar Zai Payan area of Kohat. He was martyred on the spot.
Wahhabis-allied Saudi-trained and CIA-financed nasbi takfiri Deobandi terrorists of outlawed ASWJ/LeJ or Sipah-e-Sahaba continued genocide against Shia Muslims in all over Pakistan but the National Action Plan of the PMLN-led government failed to establish write the state.
Shia parties and leaders have condemned the targeted murder of Shia teenager Waqas in Kohat. They demanded public hanging of all takfiris without any delay. They also demanded compensation to the heirs of the martyr Shia Muslims because their loss also caused irreparable economic losses to the dependents of the martyrs.