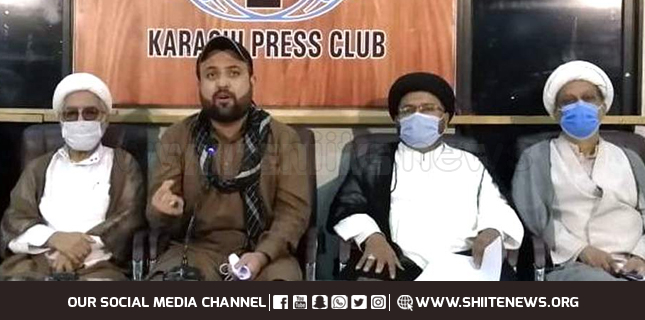 Shiitenews: Current rulers are trying to make Pakistan follow the footsteps of the Arab states, so they want Pakistan to consider Israel, but we want to make them sure that Pakistan and Pakistanis have accepted Quaid-e-Azam's view on recognizing Israel from which we will never turn away. These views were expressed by Allama Nazir Abbas Taqwi, President Shia Ulema Council Sindh, Arif Hussain Al-Jani, Central President ISO, Allama Mirza Yusuf Hussain Leader Shia Action Committee , Leader Zakirin Imamia Allama Nisar Qalandari, Member Central Monitoring ISO Maulana Aqeel Musa, Secretary General Palestine Foundation Pakistan Sabir Abu Maryam while they were addressing a press conference organized by Tehreek-e-Azadi-ul-Quds Pakistan at Karachi Press Club.
Addressing a press conference, the leaders of Millat e Jafaria said that this year, the International Al-Quds Day will be celebrated on the 24th of Ramadan. In this regard, rallies and conferences will be organized by Tehreek-e-Azadi Quds across the country. There will be more than 50 rallies and conferences in the whole country.The Central Freedom of Jerusalem Rally will be held at the Exhibition to Tibet Center in Karachi, which will participated and addressed by leaders of political and religious parties.
The leaders said that the issue of Palestine has been a global issue for decades, but the Arab rulers' reluctance to be enslaved by the less rational and colonial powers has made the issue of Palestine a regional issue and sought to reduce its sensitivities. But as long as there are real pioneers of humanity in Pakistan and other Islamic countries, we will not allow this issue to be suppressed. Because the issue if Palestine is issue of humanity along with issue of Islam.
He said that Quds is the first qiblah of Muslims, and to highlight the importance of this first qiblah, Imam Khomeini had announced the celebration of Last Friday of Ramadan as Al-Quds Day. This day is a slap in the face of the Zionist state, which can be seen all over the world.
The leaders said that as Pakistanis it is our religious, Islamic and national duty to support Palestine and its movement. Quaid-e-Azam Muhammad Ali Jinnah's statement not to recognize Israel highlights the importance of the Palestinian issue. It is their mistake to think that Pakistan will betray the Palestinian cause and accept the oppressive Zionist state. The leaders demanded from the government of Pakistan that speaking out against the issue of Palestine and Kashmir should be declared a crime in Pakistan, the official celebration of International Al-Quds Day should be declared at government level and a resolution in favor of Palestine should be presented and passed in the parliament.