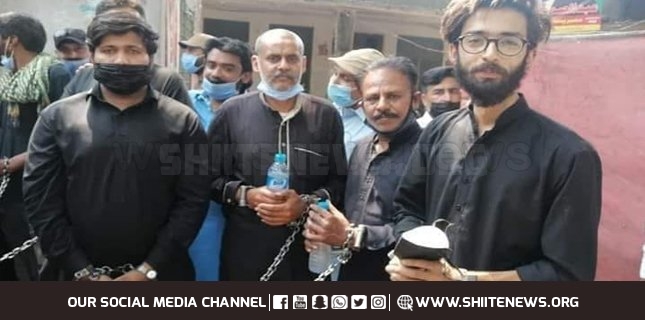 Shiitenews: On 21st Ramadan those mourners who have been arrested from the procession of Youm e Ali A.S were presented in Ferozewala Court.
All the mourners were brought to the court in handcuffs and chains. The smiles on the mourners faces were visible there was not fear or remorse on their faces.
According to reports the secretary General of SUC Sheikhupura Syed Saqib Raza advocate was representing the mourners in the court.
It is to be noted that the police raided the Youm e Ali A.S procession in Imamia Colony Sheikhupura and arrested several mourners including a son of Convener Shia Citizens of Pakistan Allama Waqar Al Hassnain Naqvi, while Allama Waqar Al Hasnain and his four sons were subjected to 7ATA provisions and cas were registered against them.