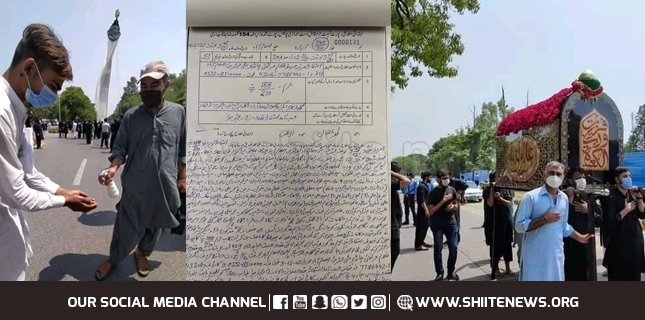 Shiitenews: The rude behaviour of Imran Khan's Government, who registered first case against procession of Youm e Ali A.S. The case was registered by police against the organizers, founders, leaders of mourning associations and mourners on the occasion of the martyrdom of Hazrat Ali Ibn Abi Talib, against the main procession in Islamabad. PTI government is playing with the feelings of Shiites.
According to details, the first case on the mourning procession on the occasion of Yom Ali A.S this year in Pakistan has been registered by the unjust government of PTI in Aabpara police station of the federal capital Islamabad. The case was registered at per the directions of City Magistrate Ghulam Murtaza Chandio. The procession start over Imambargah Qasr Zainab G-6/4 in full compliance with Corona SOP and proceeded on its scheduled routes and ended at Central Imambargah G-6/2.
Husseini mourners maintains social distancing throughout the procession. Mourning organizations and scouts continued had provided masks and sanitizers for mourners with strict check of sops, but even then Islamabad's police administration registered a case against the participants and organisers of the procession and showed their hate for Imam Ali A.S.
According to the copy of the FIR received by Shiitenews, dozens of mourners including Amjad Hussain Alvi, Ali Raza Zaidi, Zain Ali, Javed Rizvi, Raja Akhtar Abbas, Anjuman Zulfiqar Haidari, Anjuman Dua Zahra, Dasta Ghulam Batool, Salar Matami Dasta Rawalpindi has been nominated in the case.
It should be noted that every year mourning gatherings are held all over the country on Youm e Ali A.S. As per last year due to the Corona epidemic, mourning was held in the light of fatwas and orders of scholars, keeping in view the instructions of government and medical experts, Gatherings and processions are being held.
Shiite leaders had also assured the President to implement the SOP, while President Arif Ali had also assured them to not create hurdle in the way of procession if they follow sops.
Even than, such an irresponsible act by the Islamabad administration has provoked the Millat e Jaffaria. This illegal FIR is being strongly opposed on social media. The President, the Prime Minister and the Chief Justice should immediately notice such cruel and biased measures, this case registered in Aabpara police station should be cancelled.
It should be noted that last year also hundreds of FIRs were registered against the mournings and rallies by biased officers in different cities on which all shiite nation react. And after the long march, protests and sit-ins the administration was forced to close all of them.