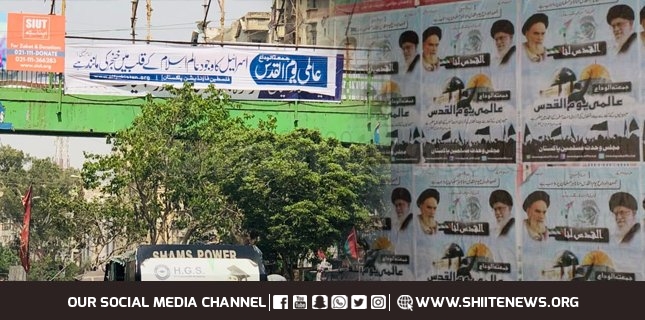 Shiitenews: Anti-Israel campaign is going on across the country on the occasion of Imam Khomeini's Freedom movement of Al-Quds on last Friday of Ramadan. Anti-Israel banners, posters and wall chalking were also displayed in various cities and towns of the country including Karachi, Lahore, Islamabad, Peshawar, Quetta, Gilgit, Skardu and Multan.
To express solidarity with the oppressed Palestinians on the occasion of the last Friday of Ramadan. Palestine Foundation, Imamia Students Organization of Pakistan, Majlis-e-Wahdat-e-Muslimeen, Shia Ulema Council of Pakistan, hung banners against Israel which is active in occupied Palestine.
It is written on banners that Israel is a dagger in the heart of Islam. And also slogans have been raised which show resistance against Israeli state terrorism.
It should be noted that Al-Quds Day is celebrated all over the world on the last Friday of the month of Ramadan this day was announced by Imam Khomeini after the Israeli announcement of Jerusalem day in 1968. This event celebrated in most countries of the world, including the Arab countries, to express solidarity with the oppressed Palestinians and resistance against the occupation of the Zionist terrorist state.
On this day, protests held against the occupation of Jerusalem by the Zionist state of Israel. And also rallies held by Muslims and non-Muslims around the world to express their outrage against the occupation.