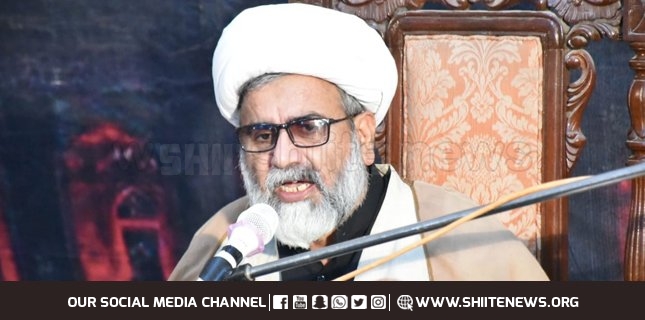 Shiitenews: Secretary General of MWM Pakistan Allama Raja Nasir Abbas Jaffery said in his condolence statement on the martyrdom of Amir-ul-Momineen imam Ali A.S that the whole muslim ummah can play its best role for defending the honor of Holy Prophet S.A.W.W by following the life style of Hazrat Ali A.S. The successor of Holy Prophet's S.A.W.W Hazrat Ali's A.S wisdom is guiding principle for every one.
He said that the only solution to the conflicts of the Islamic world lies in the Alawi thought which can be adopted by the divided Muslims to become one body. In order to achieve a rank in the world, we should adobt the motto of Haider e Karrar. The Ahlul Bayt A.S is the source of prosperity in this world and in hereafter. Allah has demanded from the Ummah of Holy Prophet S.A.W.W to Love his family. And the proof of love is to be happy in the joys of the Ahl al-Bayt A.S and to be sad in the days of sorrow.
He said that enemies of Islam have changed the way of confrontation with the Muslims. In order to snatch away the strong weapon of Muslims "faith" from them in modern time, they are harming the workforce and the basic teachings and beliefs of Islam are being attacked. Atheism is being promoted with the cultural aggression. Women are being encouraged to become unstable instead of being educated and conscious. There is absolutely no space for such a system in Islamic society. Every person should play their role to protect Islamic rules and values.
He further added that all the conspiracies against Islam were linked to the world of arrogance and colonialism which was trying to tarnish the enlightened identity of Islam. The role of the Imam Ali A.S must be followed as a beacon to counter these conspiracies of Jews and Christians and for the real implementation of Islam. His sword was always against every foreigner who was engaged in spreading misguidance in the name of religion. By our well characters we should prove that we are real followers of Imam Ali A.S who was saying "By Lord of Kaba I succeeded" in his last moments.