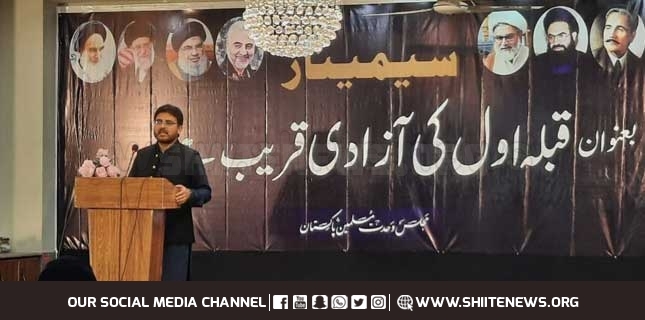 Shiitenews: In order to show solidarity with the oppressed Palestinians, a seminar was arranged by MWM Pakistan which held in Lahore entitled "Freedom of the First Qibla is Near", which was attended by prominent religious and political figures of the country.
The speakers said that if Jews and Christians are united for the survival of Israel, then the Muslim Ummah must also unite for the liberation of the first qiblah. Israel's existence is like a dagger in the back of the Islamic world. The founder of Pakistan, Quaid-e-Azam Muhammad Ali Jinnah, raised his voice for the Muslims of the subcontinent as well as for the Palestinian Muslims.
Addressing the participants, Khurram Nawaz Gandapur, General Secretary of PAT, said that the rulers should raise their voice to stop Zionist atrocities. Syed Nasir Shirazi, Central Deputy Secretary General of MWM Pakistan, said that Jews had killed lot of Muslims on the name of hollow cast, even if they didn't leave innocent children. Israel considers only Muslims as its enemy. Israel has modern weapons of war, including drone technology, iron missiles, but it is well aware of the fact that whenever Shia-Sunni unite together In the face of oppression, they will have to retreat. The foolish dream of a Greater Israel will never come true.
Senator Kamil Ali Agha said that like as we Shiites and Sunnis are gathered here today, The Muslim rulers will unite to support the Muslims of Palestine, Inshallah. The solution to the Palestinian problem lies in the unity of the Muslim Ummah. Barrister Amir said Islamic states should declare Al-Quds Day at the governmental level. Freedom of the first tribe is not far off. Muslims will unite against Israel, like their unity against French Govt. Arif Hussain Al-Jani, Central President of Imamia Students Organization of Pakistan, said that today's Shia-Sunni gathering is an expression of the fact that we are all united to celebrate Al-Quds Day. The independence of the Islamic world is conditional on the liberation of Palestine.