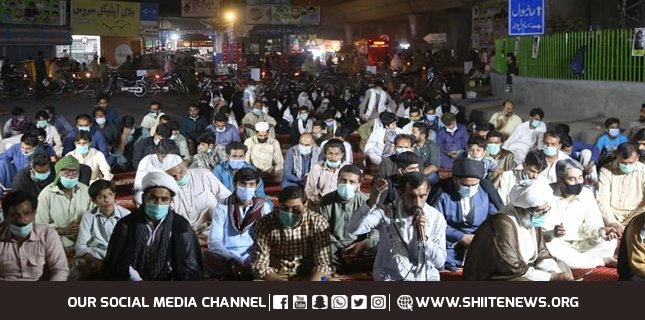 Shiitenews: Protest held by Joint action Committee for shia missing persons in Multan against the forceful disappearance of mourners and to support their families who are in sit in since 25 days. The participants included men,women,children and youngsters. They were holding play cards and banners with demands for recovery of shia missing persons. Allama Iqtedar Hussain Naqvi, Allama Qazi Nadir Hussain Alavi, Moulana Waseem Masumi and Saqlain Zafar addressed the protest.
The leaders of Joint Action Committee for Shia missing persons said that the families of missing persons are protesting peacefully while facing lot of problems. From their faces its seems that they are not the citizens of this country. There is not any democracy in country its still dictatorship. To ignore the orders of court regarding recovery of shia missing persons is a question mark on judicial system. The unconsciousness of government institutes about missing persons shows the law of jungle. Kidnapping the mourners of Millat e Jaffaria the state institutes are smashing law and order. Is it possible that foreign agency has taken our youths?
They included that we will response to the plannings to discourage Millat e Jaffaria with our sense of patriotism. We will never allow to pass our mourners life in dark torcher cells. Government and state institutes should know there will be heavy protest across the country if the missing persons were not recovered.
Before prime minister ship Imran Khan his self said that if there any missing person exist in my governance I will resign but unfortunately the citizens of this country is missing since 10 years and up to now on daily basis our youth are taking away but the sight of government is closed. After nimaz e Maghribain mourning held in protest at the end.