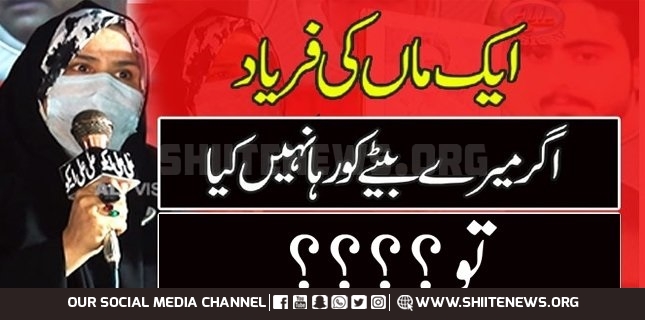 A Resident of Hungo named Wajid Hussain was kidnapped from Karachi forcefully. His mother gave a shocking announcement at the rally in front of Mazar-e-Qaid during a press conference where she stated she would commit suicide by setting herself on fire.
According to the details, the mother expressed her grievances in front of all the sitting scholars and journalists over the indifferences of state institutions! This occurred during the 17th Day of the protest at the Press Conference organized by the Joint Action Committee for Shia Missing Persons held at Mazar-e-Quaid.
After listening to the emotional and self immolating speech of Wajid Hussain's mother, the scholars like Allama Syed Ahmad Iqbal Rizvi, Allama Haider Abbas Abidi, Allama Saqiq Raza Taqvi and along with other scholars got very emotional and shared their sentiments.
It should also be noted that this protest against the non-recovery of shia missing persons has been going on for the last 17 days at Mazar-e-Quaid!! Even though the state institutions relayed that they needed 12 days to investigate the disappearance, but that has expired. There is still no information provided from the state about the forcibly disappeared shia persons.
Fed up with this cruel and inhumane attitude of the state institutions, the parents of the disappeared Shia mourners are now forced to take some direct action!
God forbid, if any of the missing person's father, mother, or family members take such dangerous and intense direct action, the entire responsibility will fall on the Prime minister, The Army Chief and The Chief Justice!