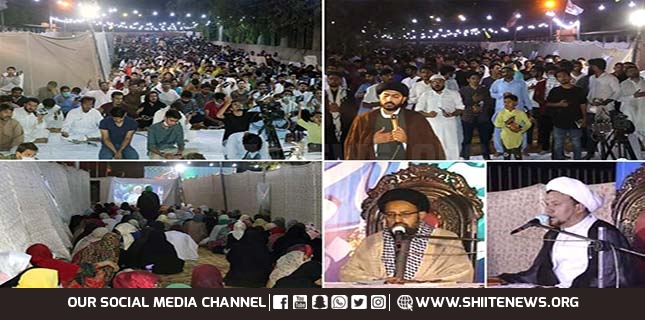 ISO congregational prayers held to celebrate Imam Mahdi birth anniversary.
As per its tradition, Imamia Students hosted special events across the country.
ISO congregational prayers held to celebrate Imam Mahdi birth anniversary
They organized main event in Karachi where Allama Syed Sadiq Raza Taqvi and Allama Ejaz Behishti spoke.
Besides, Maulana Raza Jan Kazmi recited Dua-e-Kumail.
Meanwhile, Imam Mahdi birth anniversary celebrated across the world, including Pakistan.
As per Islamic ideology, Muslims revere the divine saviour or Messiah of the entire oppressed humanity as (Imam) Mahdi.
Notably, Shia Muslims celebrate birth anniversary of Ima Mahdi on 15th Shaaban.
According to Islamic lunar calendar, they begin celebrating the birth anniversary of Imam Mahdi at night between 15th and 14th Shaaban.
Nightlong celebrations remain famous around the world as Jashn-e-Neemah-e-Shaaban.
Mostly, peope use the Persian term Jashn-e-Neemeh-e-Shaaban for this.
This year too, Shia areas, houses, streets, mosques and Imam Bargahs had been illuminated.
Shia areas proudly wore a bridegroom look due to these lightings, buntings and decorations.
Meanwhile, religious scholars have spoken on the mission of Imam Mahdi (AS).
Poets recited poems to pay tributes to the infallible and chosen leader of Islam and humanity.
Furthermore, Shia Muslims performed nightlong servitude to God through special prayers imploring God for his reappearance.
Because, the 15th Sha'aban rekindles hope of suffered humanity and filled hearts of human beings with fragrance of his memories.
Specially, the suffered humanity misses Imam Mahdi who will surely reappear to eliminate the oppression and tyranny.
May God Almighty hasten his reappearance from Kaaba in Makkah.