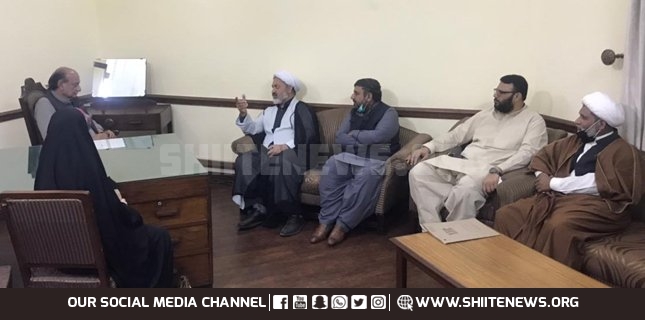 MWM leaders meet Punjab Minister to seek withdrawal of fake cases against Shia mourners.
The Majlis-e-Wahdat-e-Muslimeen (MWM) delegation comprised of Allama Abdul Khaliq Asadi, Asad Abbas Naqvi, MPA Zahra Naqvi and Allama Iqbal Kamrani.
MWM leaders meet Punjab Minister
They called on Punjab Law Minister Raja Basharat and lodged protest over fake cases against Shia Muslim mourners.
Furthermore, they complained that biased police officials were registering cases on false charges against Shia Muslims.
The MWM leaders reminded the minister of the fact that observance of azadari rituals remains fundamental right of Shia Muslim citizens.
They said registering cases against Shia mourners for observance of religious rituals amount to usurping their religious rights and freedom.
While presenting their arguments, they demanded the minister to ensure nullification of all such cases across the Punjab province.
Meanwhile, Punjab Law Minister Raja Basharat assured them to play due role in this regard.
He further said that he would ensure rule of law.
Raja Basharat said that every citizen of Pakistan has Constitutional and legal right to live life as per his creed freely.
However, Shia Muslims want the government to match its words by its actions.
Because, takfiris and nasbis publicly attack Shia Muslims ideology and rituals.