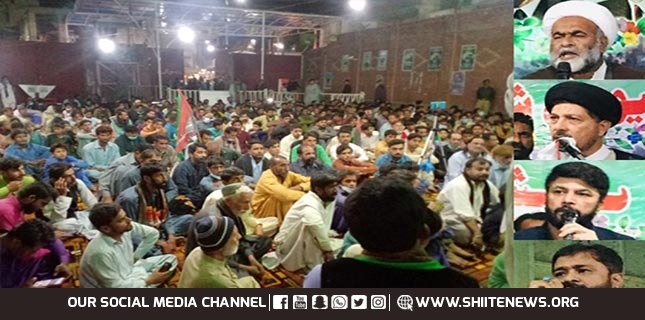 Martyrs of Qalandar Shrine remembered on 4th anniversary of the suicide bombing that massacred them.
A mammoth Shohada Conference held under the aegis of Majlis-e-Wahdat-e-Muslimeen at the shrine in Sehwan Sharif.
Martyrs of Qalandar Shrine remembered on 4th anniversary
Allama Baqir Zaidi, Allama Mukhtar Imami, Allama Raza Saeedi, Ali Hussain Naqvi, Allama Mubashir, Allama Kalbe Mehdi and other eminent figures spoke.
They condemned inaction against mastermind, patrons and abettors of the terrorist bombing.
Specially, they noted four years have passed but the state authorities failed to ensure justice.
Moreover, they also slammed Pakistan Peoples Party government in Sindh province.
They said that the PPP government had made promises to the heirs of the martyrs of Qalandar shrine blast.
But, they lamented, the PPP's Sindh government had not honoured its own promises and commitments.
Furthermore, they warned PPP government of consequences of its reconciliatory policy towards extremists.
The speakers at the Martyrs Conference Qalandar Shrine said that the govt's patch-up with the extremists pose threat to national security.
They further said that siding with the extremists amount to stab in the back of peaceful Shia Muslim community of Pakistan.