Pakistan
Two Shia Muslims were martyred in ASWJ terrorist attack in Karachi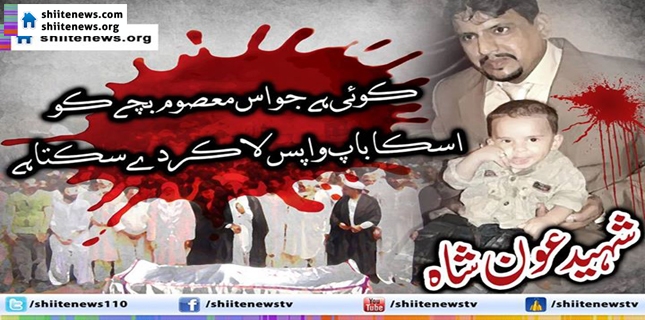 Two active Shia Muslims embraced martyrdom after they were made target by the notorious takfiri nasbi terrorists of Taliban-allied banned ASWJ (also known as Sipah-e-Sahaba and Lashkar-e-Jhangvi) on Monday night. They were laid to rest on Tuesday.
Notorious takfiri ASWJ terrorists opened fire upon Syed Aun Raza alias Aun Shah, a leading mourner belonging to Dasta-e-Al-Abbas (AS), Shia mourning organisation, and his friend Mutahir Jafari alias Sunny at a Motorcycle Shop in Musa Colony near Karimabad in district central of Karachi. They were seriously injured and rushed to a private hospital.
First, martyrdom hugged Aun Shah and then embraced Syed Matahir. Body of martyr Syed Aun was shifted to Jafar-e-Tayyar Society where his namaz-e-janaza was held on Tuesday (today). Body of martyr Matahir belonging to Jafaria Colony Gulbahar was shifted to Imam Bargah Shah-e-Karbala Rizvia Society where his namaz-e-janaza was held. Both martyrs were laid to rest amid slogans of Labbaik Ya Hussain (AS).
Shia parties and leaders have condemned the targeted assassinations of two active religious Shia Muslims in Karachi. They said that some pro-takfiri judges too are equally responsible for the Shia genocide because they don't condemn the takfiri terrorists and if takfiris are condemned to death, the pro-takfiri judges stay their hanging. They said that nation has to hold these judges accountable alongside the pro-takfiri politicians and clerics. They demanded elimination of takfiris from every nook and corner of Pakistan.