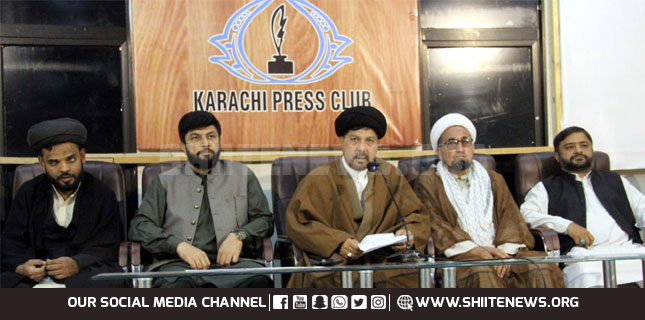 MWM announces Kashmir Solidarity Week for oppressed Kashmiris.
The MWM's Sindh secretary general Allama Baqir Zaidi made this announcement, while addressing a press conference at Karachi Press Club.
MWM announces Kashmir Solidarity Week for oppressed Kashmiris
Allama Sadiq Jafari, Ali Hussain Naqvi, Allama Mubashir and Maulana Ali Anwar also accompanied him.
Majlis Wahdat-e-Muslimeen (MWM) announced observance of Kashmir Solidarity Week to condemn atrocities of India.
Allama Baqir further said that the solidarity week aims to support legitimate right of self-determination of Kashmiris.
Besides, they slam India over squatting Kashmir (IOJK) and oppressing Kashmiris.
Furthermore, the MWM leaders also condemned discriminatory policies and actions of Prime Minister Narendra Modi-led BJP government.
Particularly, they denounced Modi govt over usurping rights of minorities living in India.
They said BJP government under PM Modi had undermined integrity of India, while endangering its survival.
Moreover, they referred to Sikh Community's hoisting of a religious flag at the Red Fort in Delhi that marks open expression of rebellion and hatred against the Modi government.
They underlined freedom as destiny of people of Kashmir who, they said, would freedom will be achieved very soon.