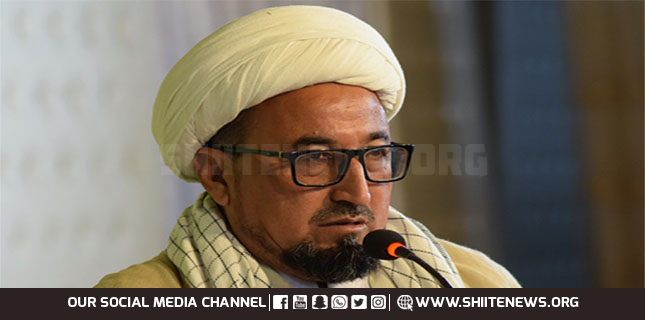 Majlis for Qassem Soleimani and martyrs of Mach tragedy on January 23 announced.
The Majlis-e-Wahdat-e-Muslimeen (MWM) Karachi chapter secretary general Allama Sadiq Jafari has made this announcement.
He further said that they are meeting notables to deliver invitation to attend the Jan 23 mourning congregation in Incholi.
Majlis for Qassem Soleimani and martyrs of Mach
The mourning congregation is being held under the aegis of MWM, Jafaria Alliance, IO, Haiyyat-e-Aimma Masajid w Ulma-e-Imamia, Majlis Zakireen Imamia, Markazi Tanzeem-e-Aza and Tanzeem-e-Azadari.
Moreover, Allama Sadiq Jafari said, Allama Raja Nasir Abbas Jafari will address as a keynote speaker.
Poet Shaukat Raza Shaukat and other eminent figures will also pay homage to the Martyrs of Baghdad Tragedy and of Mach tragedy.
Notably, Pakistani nation revere Haj Qassem Soleimani, Haj Abu Mahdi Mohandis and their comrades as their national heroes.
Factually speaking, worldwide events show Qassem Soleimani won hearts and minds war.
General Qassem Soleimani and Abu Mahdi Mohandis won hearts and minds war through altruistic services.
Besides, they rendered unmatched services and sacrifices for the sake of oppressed humanity.
Nobody else other than the team Soleimani could unmask real face behind the warmongering Zionists-controlled United States.