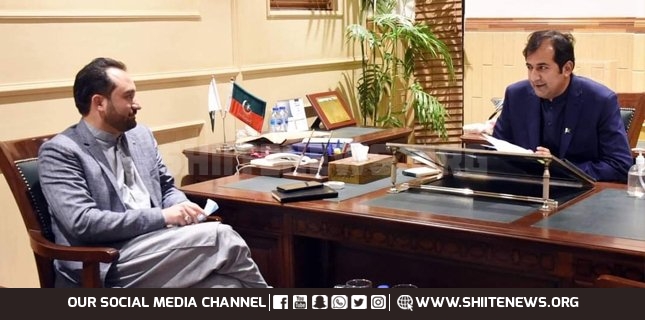 Minister Kazim Meesam calls on Chief Minister Gilgit Baltistan Khalid Khurshid at office of the latter.
GB Minister for Agriculture discussed issues relating to his department.
Minister Kazim Meesam calls on Chief Minister
Moreover, he also apprised the GB Chief Minister of grievances of his constituents in Skardu.
He also elaborated overall situation of the entire Baltistan region.
Kazim Meesam lamented injustices done to Baltistan throughout the history.
While citing injustices during the tenure of former governments, Chief Minister GB emphasized the need for remedial measures.
Khalid Khurshid said he sees whole GB as near and dear but he also agreed with the minister's point of view.
Furthermore, he assured of record development work and progress in Baltistan during his tenure as GB CM.
Meanwhile, Kazim Meesam offered condolence to member peace committee Pindi Gheb Malik Sadaqat Ali Khan.
He also recited Surah fateha for deceased aunty of Malik Sadaqat.
While talking to the media on the occasion, he also slammed the parties who ruled GB in the past but did nothing for the region.
As a nominated candidate of Majlis-e-Wahdat-e-Muslimeen, Kazim Meesam had won GB election from Skardu.