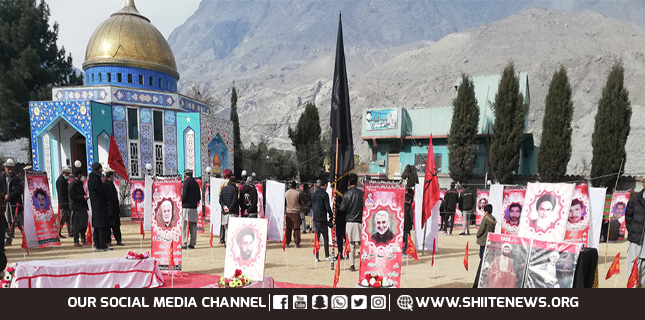 Martyrs photo exhibition held to pay homage to great heroes of humanity in Gilgit city.
The exhibition held under the aegis of Markazi Imamia Council at Jamey Masjid Gilgit on the sidelines of the event on martyrdom anniversary of Agha Ziauddin Rizvi.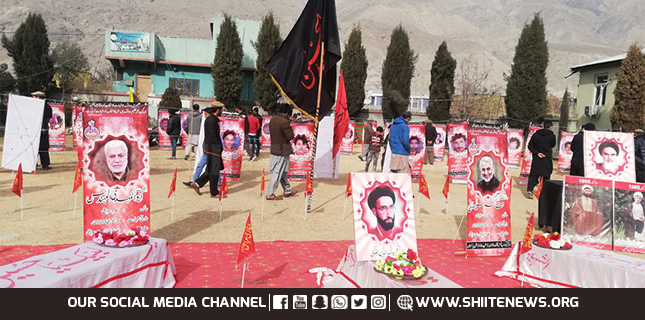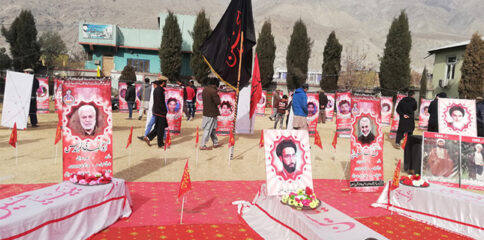 Great Shia Islamic cleric and leader Allama Syed Agha Ziauddin Rizvi embraced martyrdom due to terrorist attack.
Martyrs photo exhibition held to pay homage to great heroes
Friday prayers leader Allama Agha Syed Rahat Hussain al Hussaini presided over the event.
The participants and the speakers showered the Agha Ziauddin Rizvi and his bodyguards on 16th anniversary of their martyrdoms.
Specially, they held 10-day Ashra-e-Shohada-e-Imamia from January 08 to 17, 2021.
Under that banner, they held various events, including a photo exhibition.
There, they displayed photos martyrs Allama Syed Arif Hussain al Hussaini, Dr Mohammad Ali Naqvi, Agha Ziauddin and other high profile Shia Islamic figures.
Moreover, they also displayed portraits of Haj Qassem Soleimani, Haj Abu Mahdi Mohandis and other eminent figures.
Pakistani nation revere and adore all those as their national heroes who played role against illegitimate occupier and land grabber Israel.
Besides, Agha Ziauddin Rizvi struggled for legitimate rights of Shia Muslims in the Gilgit-Baltistan region.
Notorious takfiri terrorists working as proxy of Israeli-Saudi nexus assassinated him in January 2005.
On Jan 8 (2005) terrorist attack, he suffered from critical wounds and later rushed to the Combined Military Hospital in Rawalpindi.
He succumbed to fatal injuries in the morning on Thursday January 13, 2005.
Although he remained an eminent and known figure across Pakistan, people of Gilgit-Baltistan considered him father of the entire region.