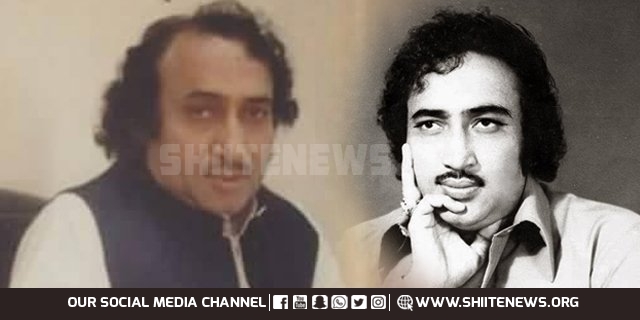 Martyred Shia poet Mohsin Naqvi remembered on 25th anniversary across the country.
Notorious terrorists of now-called Rah-e-Haq Party (originally Sipah Sahaba) had murdered great Urdu poet Mohsin Naqvi in 1996.
Outlawed Sipah Sahaba also uses other names such as ASWJ and Lashkar-e-Jhangvi despite ban on the terror outfit to date.
Martyred Shia poet Mohsin Naqvi remembered
Originally hailed from Dera Ghazi Khan (Punjab), Syed Mohsin Naqvi spent his life in Lahore.
Factually, Syed Ghulam Abbas used pen name Mohsin Naqvi in his literary life.
Even though politically he staunchly supported Zulfikar Ali Bhutto's PPP, he always revered Grand Ayatollah Imam Khomeini as his ideal revolutionary leader.
Alongside his non-religious poetry that made him famous among literary circles, his religious poetry still remains a source of inspiration.
Admirers continue to remain captivated due to novel ideas and the best selected words to portray historical facts in the poetry.
Mohsin Naqvi condemned ideology of takfiri fanaticism which Sipah-e-Sahaba continue to preach till now.
He also knew it very well that martyrdom would finally hug him but he knowingly continued preaching the truth about takfiris.
He wrote a poem that unmasked real face of notorious takfiri nasbi Deobandi Sipah-e-Sahaba terrorist outfit.
Notably, then nobody had dared calling a spade a spade.
Finally, terrorists of present-day Rah-e-Haq Party or Lashkar-e-Jhangvi assassinated him in Lahore on January 15, 1996.
Since then, Shia Muslims in particular and his PPP and literary circles in general remember him on martyrdom anniversary.
Meanwhile, Shia Muslims observed his martyrdom anniversary in a befitting manner.
Shiite.News appeal to all the readers to recite sura fateha for the true eulogizer of Ahl-e-Bait (AS) that means Hammaad-e-Ahl-e-Bait (AS) Mohsin Naqvi.